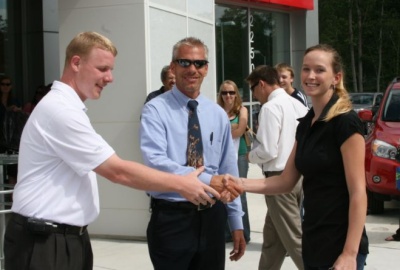 Toyota of Southern Maryland representatives Will Ryan (left) and Gene Cartwrite congratulate St. Mary's College of Maryland student Jocelyn Henderson on winning a Toyota in the "Starving Student" contest. (Submitted photo)
ST. MARY'S CITY, Md. (Oct. 20, 2008)—Jocelyn Henderson probably never would have expected that a 1996 Toyota Camry worth about $4,000 would be the stuff of dreams come true, but it seems that's the case. The St. Mary's College of Maryland (SMCM) student and mother of two young children won the car in the "Starving Student" Contest sponsored in September by Toyota of Southern Maryland.
To enter the contest, students submitted essays explaining why they needed a car. Twenty-five finalists were selected and each read his or her essay at an award ceremony on Sept. 20. The finalists themselves selected the winner by voting on the best essay, which was Henderson's tale of her husband's and her struggles to juggle school, jobs and children's appointments with one old, dysfunctional car showing all its 300,000 miles.
"Winning this car has really been a blessing," said Henderson. "It runs well and gets good mileage. It is wonderful of Toyota of Southern Maryland to give students an opportunity like this, and many people at school have approached me to say congratulations."
Henderson is a biochemistry major with plans to go on to medical school at Johns Hopkins Medical College. She is completing a research project at SMCM under the guidance of Dr. Randy Larsen, professor of chemistry. "Jocelyn is a great student to have in class, and is conducting state of the art research on dissolved organic matter in the St. Mary's and Potomac rivers," Larsen said. The project required her to drive to different locations to collect water samples. Getting to her research locations will now be an easier task in her "new" car, as will be getting her son and daughter to school and doctor's appointments.
In her winning essay, Henderson wrote, "Winning this contest would exponentially reduce the amount of stress I am dealing with because not only would my family and I feel safer on the roads, but I could concentrate more on school and worry less about picking up the kids…. If I win this contest, it would be the first car I've actually owned in my name, which is pretty exciting."
Students from all over the state entered the contest, which was sponsored by Toyota of Southern Maryland dealership owners Peter D'Artista and John Peed.