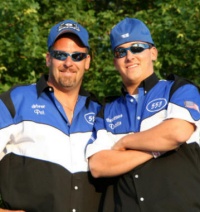 Patrick G. Reiter (left) and boat racing teammate Dustin. Mr. Reiter perished in a boating accident on the Patuxent River near Solomons on Oct. 12, 2008. (Photo courtesy reiterracing553.com)
(Oct. 20, 2008)—The Maryland Natural Resources Police reported that the body of Patrick G. Reiter, 39, of Mechanicsville, was found by a boater on Friday night. Reiter went missing after being ejected from a speedboat north of Solomons on the Patuxent River on Sunday, Oct. 12, around 4:45 p.m.
Tim Kiser found Reiter's body at approximately 7:30 p.m. about 400 yards from the original accident. Kiser is the fisherman who aided the survivors right after the Oct. 12 accident.
The viewing for Mr. Reiter has been scheduled Wednesday, October 22, from 2:00 - 4:00 pm and 6:00 - 8:00 pm, with prayer at 7:00 pm. The viewing will be held at Brinsfield-Echols Funeral Home, 30195 Three Notch Road, in Charlotte Hall.
The funeral has been scheduled for Thursday, October 23, 11:00 a.m. at St. Mary's Bryantown Catholic Church in Bryantown, Md.
Three other passengers in the boat were also ejected at the time of the accident. The men were safely recovered from the water.
Robert T. Baumgarten, 30, of Lexington Park was transported to Prince George's Hospital Center. Kenneth N. Weisskopf, 37, and Joshua E. Reithmeyer, 25, both of Mechanicsville were transported to Calvert Memorial Hospital.
All four men were were onboard a racing boat owned by Reiter
called "Hot Licks." According to the racing team's website, Reiter was driving, Baumgarten was on throttles, and Reithmeyer and Weisskopf were passengers.

"The boat was traveling up river from Solomons Island and going around point patience, #8 red marker, the boat suddenly hooked and went into a barrel roll," according to the team's website. The information is attributed to Reithmeyer and Tim Kiser, the fisherman that aided in rescuing victims afloat.

Authorities say none of the individuals were wearing life jackets.

RELATED INFORMATION:

Reiter's Boat Racing Team Website
http://reiterracing553.com/