La Plata student receives National Hispanic Recognition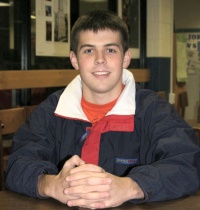 The College Board's National Hispanic Recognition Program recently recognized Robert Garcia, a senior at La Plata High School, for exceptional academic achievement.
Garcia was chosen as a National Hispanic Scholar for scoring high on the Preliminary SAT/National Merit Scholarship Test (PSAT/NMSQT) and for identifying himself as Hispanic. He is one of more than 5,000 students who were chosen for national recognition.
The College Board is not able to provide a monetary award to these students, but an important component of the program is the CD-ROM distributed to subscribing four-year postsecondary institutions.
The CD-ROM lists the names of students selected in the program and is mailed in October to subscribing colleges and universities. Being listed may give students an opportunity to hear from colleges that are particularly interested in communicating with prospective students of Hispanic heritage.
Each year, the College Board serves more than 7 million students and their parents, 23,000 high schools and 3,500 colleges through major programs and services in college admissions, guidance, assessment, financial aid, enrollment and teaching and learning.
La Plata teacher receives science tools grant
Kathy Cahn, a science teacher at La Plata High School, was recently selected as a 2008 Science Tools Grant award recipient and will receive a $1,000 grant from the Armed Forces Communications and Electronics Association (AFCEA).
Cahn is one of four $1,000 AFCEA grant recipients in the tri-county area and plans to use funds toward the purchase of Vernier colorimeters and dissolved oxygen probes. These probes connect to laptop computers and are used in water quality studies for tenth-grade biology and Advanced Placement biology labs.
She will be recognized Oct. 30 at a luncheon hosted by the Southern Maryland AFCEA chapter in St. Mary's County.
The science tools grant program is a joint effort between individual AFCEA chapters and the AFCEA Educational Foundation to promote science teaching and to enhance the abilities of capable teachers in schools worldwide.
The AFCEA Educational Foundation awards $1,000 and $500 grants for middle or high school science teachers to purchase equipment or supplies that promote innovative technology in the classroom.
All public and private middle and high schools in the tri-county area are eligible to submit applications for the science tools grant program.
TEACHER RECEIVES AWARD:
Robynn Mudd, a first-grade teacher at C. Paul Barnhart Elementary School, was selected as one of 1,000 teachers nationwide to receive OfficeMax's "A Day Made Better Award." Staff from the Waldorf OfficeMax presented Mudd with $1,000 in office supplies, and a new desk chair, on Wednesday, Oct. 1, at the school. The award was developed by OfficeMax and Adopt-A-Classroom in recognition of teachers who spend their own money for school supplies. Visit www.adaymadebetter.com for additional information.
GRANDPARENT'S DAY:
Students at Malcolm Elementary School celebrated Grandparent's Day on Tuesday, Sept. 16, at the school. Grandparents were invited to spend the morning in their grandchildren's classrooms to participate in activities, such as reading books to students. More than 210 grandparents participated in the celebration.
MASQUERADE BALL:
Students in Stephanie Harris' seventh grade language arts class at Milton M. Somers Middle School participated in the 2nd annual Masquerade Ball held this week at the school. The class is reading "The Hero and the Crown," which is about archetypes, such as a mentor, a shadow and an ally, and students were assigned to create a mask to wear to the ball that represented one of the archetypes. Teachers and staff served as judges and had to guess which archetype student's mask represented. Students also created skits based on their archetype.