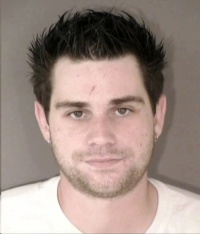 Robert Oscar Newland, 22, of California, Md. was arrested Thursday after police found a marijuana grow operation in his house.
LEONARDTOWN, Md. (Oct. 9, 2008)—Robert Oscar Newland, a 22 year-old California, Md. man was arrested and charged Thursday after police found more than 100 marijuana plants and a Glock 40 caliber handgun in his home off of Town Creek Drive.
Police say they obtained a search and seizure warrant for the residence after an investigation led them to Newland.
Police say that once inside Newland's home they found an "extensive marijuana grow" which contained plants in various states of cultivation. Police value the plants and the grow equipment at more than $120,000.
The raid was executed by vice narcotics detectives from the Bureau of Criminal Investigations (BCI), assisted by the St. Mary's County Sheriff's Office Emergency Services Team.
Police say additional charges against Newland are pending a State's Attorney's Office review.