By ANATH HARTMANN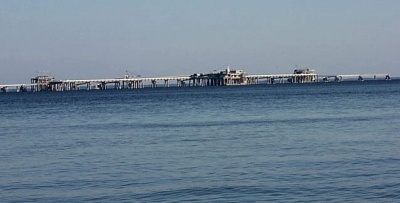 The Cove Point LNG offloading terminal in the Chesapeake Bay off the coastline of Calvert County, as seen from Calvert Cliffs Park. (SoMd.com File Photo)
WASHINGTON (Oct. 8, 2008)—A $740 million expansion of the Cove Point liquefied natural gas facility was reauthorized Tuesday, less than three months after a federal court sent the issue back to the Federal Energy Regulatory Commission.
The U.S. Court of Appeals for the District of Columbia circuit remanded the issue to the FERC after gas provider Washington Gas complained that Cove Point liquefied natural gas had contributed to a series of gas leaks in Prince George's County in 2003, 2004 and 2005.
A gas leak in 2005 resulted in the explosion of a District Heights house. No one was injured, but a subsequent Washington Gas study found the imported gas was drying out rubber pipe seals, leading to leaks.
In a concession to Washington Gas, the commission approved plans to cap the flow of Cove Point gas into the company's system.
A Washington Gas spokesman declined to discuss the announcement.
"We are still reviewing the FERC decision," spokesman Eric Grant said.
A commission statement said the cap "will allow timely completion of project construction while at the same time ensuring that no additional volumes of LNG associated with the expansion project are delivered into (the Washington Gas) system."
The commission could not be reached for comment.
A spokesman with Richmond, Va.-based Dominion said his company was "pleased."
"We look forward to completing the expansion and . . . we are pleased with FERC's decision," spokesman Karl Neddenien said. The commission's conclusion that Washington Gas' arguments against the facility's gas were "based on a flawed analysis" was welcome, he said, particularly the commission's decision that "other factors, namely the application of hot tar to the coupling seals as a means of corrosion control, the increase in operating pressures on (the) system, and colder temperatures were primarily responsible for the leaks."
Dominion began construction on two additional LNG storage facilities and a 47-mile pipeline in Southern Maryland in 2006 and expects to finish the expansion by the end of 2008 or the start of 2009. Neddenien said the expansion would enable Cove Point to provide LNG to several million more homes in Southern Maryland, New York and Pennsylvania.
Not everyone thought the announcement was cause for celebration.
Brian Ferguson, a sometime farmer of corn, potatoes and soybeans in St. Leonard, said he and other Calvert County residents had long ago given up trying to halt the Cove Point facility expansion. Ferguson said he was not surprised by the commission's announcement.
"We feel that we've been kind of duped and people around here are noticeably and understandably tired of (fighting)," said Ferguson, adding that crop harvest on his 60-acre farm had suffered considerably over the past two years as the pipeline installation continued on his property.
"Just as we've been saying all along, they just slowly and incrementally continue to expand and then you turn around 10 years later and you have a behemoth in your backyard."
Lusby resident Owen Cummings, who lives about a mile from the Cove Point LNG plant, called the commission's decision "shameful."
"We know that they're going to go ahead with the growth and the expansion but we asked that the county and the state look into install(ing) some air-monitoring devices—and the FERC brushed it aside and just went ahead and approved it again," Cummings said. "We just want to know what kind of air we're breathing—you know? Throw us a bone. It's shameful."
Capital News Service contributed to this report.