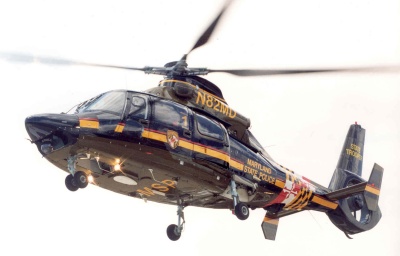 One of Maryland's State Police helicopters. The entire fleet was grounded after Saturday's crash of Trooper 2. The "Trooper X" designation is actually assigned to the hangar, not the specific aircraft. Aircraft rotate throughout the state. (MSP Photo)
MIDDLE RIVER, Md. (Oct. 1, 2008)—The Maryland State Police Aviation Command has resumed some flights and will be incrementally returning to full operations across the state as inspections are completed. Flights were grounded after Trooper 2 crashed in bad weather Saturday night with 5 souls onboard after picking up two car accident victims in Waldorf.
As of 5:00 p.m. today, Maryland State Police Helicopter Trooper 7, stationed in St. Marys County, is back in service. At this time, both Trooper 1 (Baltimore) and Trooper 7 are in service.
Major Andrew J. McAndrew, Commander of the Aviation Command, directed flights to resume Tuesday evening after ground and in-flight checks of the glide slope equipment on each helicopter have been completed. Trooper 1, stationed at Martin State Airport in Middle River, was the first aircraft to commence operations.
Monday, Helicopter Transport Services, an independent aviation company, began ground tests of the glide slope equipment in each State Police helicopter. Following those tests, Major McAndrew directed that each aircraft be flight tested by a State Police instructor pilot to ensure the glide slope equipment was functioning properly while in the air.
At about 6:25 p.m. Tuesday, Trooper 1, piloted by Mr. Steve Miller and Mr. Keith Patterson, with a crew of flight paramedics First Sergeant Elizabeth Beck, Sergeant Paul Schneiderhan, and Major McAndrew, lifted off from Martin State Airport and flew to the State Police hangar at Andrews Air Force Base. In addition to being a test flight, the trip was in honor of those lost in the crash of Trooper 2. Trooper 1 returned to Martin State Airport at 7:21 p.m. and is available for calls for service, depending on weather conditions.
RELATED INFORMATION:
Four Fatalities in State Police Medevac Crash in Prince Georges County, Sept. 28, 2008
http://somd.com/news/headlines/2008/8398.shtml