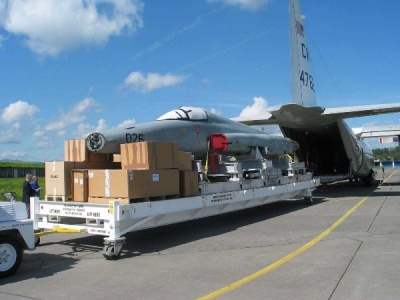 A disassembled former Swiss Air Force F-5 Freedom Fighter is ready for loading on a U.S. Navy C-130T for the flight back to the United States. (Submitted photo)
NAVAL AIR SYSTEMS COMMAND, PATUXENT RIVER, Md. (Oct. 1, 2008)—NAVAIR's Support and Commercial Derivative Aircraft Support Office Adversary Team recently completed a six year program to buy and refurbish 44 retired Swiss Air Force F-5 Freedom Fighters. These F-5N aircraft enable the Navy to fly in a dedicated adversary role until at least Fiscal Year 2015.
"The success of the F-5E Replacement Program could not have happened without our international and industry partners, the Swiss government and Northrop Grumman. This reverse Foreign Military Sales program began in 2000 when the Navy needed a replacement for its fleet of F-5E Tiger II adversary aircraft," said Capt. James Wallace, Support and Commercial Derivative Aircraft program manager (PMA207). "The Swiss are long-time operators of the F-5 and had surplus aircraft available. An agreement between the U.S. and Swiss governments was signed and the Swiss initially supplied 32 former Swiss Air Force single-seat F-5Es to us under the F-5E Replacement Program, a program valued at $50 million."
The Swiss aircraft were manufactured with Improved Handling Quality systems. Their physical differences include a sharper nose, different wing leading edge roots and automatic flaps, giving an increased capability compared to the U.S. F-5Es.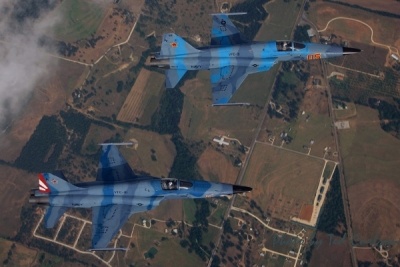 Fighter Composite Squadron 111, the Sundowners, based at Naval Air Station Key West, Fla. and Fighter Composite Squadron 13, the Saints, based at Naval Air Station Fallon, Nev. (VFC-111 and VFC-13) F-5N's fly in formation. (Submitted photo)
"The Swiss aircraft had very few flight hours and were in great shape," said Lt. Cdr. Jason Goff, the Adversary and Commercial Air Services Deputy program manager. "One F-5 was delivered to Northrop Grumman's plant in St Augustine, Fla., every month to start the refurbishment process. We basically take one of our old F-5E's and a Swiss plane and at the end of the refurbishment; we have a new plane – the F-5N. The refurbishment process takes up to five months to complete. It just made sense to refurbish the aircraft at Northrop Grumman's plant since they designed and built the jets in the first place. They already do all our depot work and they own all the drawings."
"In 2004, the Navy wanted to establish an Adversary training base in Key West, Fla. The Navy Reserve came up with the funding to buy 12 extra jets," said Jay Bolles, the Integrated Program Team lead for Adversary Aircraft in PMA-207. "We bought the extra aircraft from the Swiss, now totaling 44 aircraft, and put them through the refurbishment line with the reserve funding and we were still able to stay within the original schedule."
Each Swiss F-5E is airlifted from RUAG's plant at Emmen, Switzerland, to St Augustine, Fla., in a U.S. Navy C-130T. The Swiss F-5's are disassembled and stowed in a purpose-built frame designed and manufactured by Northrop Grumman. One of two frames was permanently at Emmen, and the other was always in transit.