LEONARDTOWN, Md. (Sept. 30, 2008) - The St. Mary's County Sheriff's Office today released the following incident and arrest reports.
FRAUD: On Sept. 26 Dfc. M. Harrison responded to the Cedar Point Federal Credit Union for a report of fraud. Investigation revealed that Thomas Jeffrey Combs, 23, of Hollywood, was at the credit union attempting to cash two checks written by a victim who, unknown to Combs, was an employee of CPFCU. The victim reported she ordered checks from the credit union but had never received them. The victim added that she was surprised when Combs attempted to cash checks which were written to him and forged with her signature. Further investigation revealed that Combs had also passed two stolen and forged checks of the victim the day before on Sept. 25. Combs was arrested and charged with 4 counts of uttering, 4 counts of theft, 4 counts of counterfeiting, 1 count of theft scheme, 1 count of hindering, and 1 count of false statement to a police officer.
ILLEGAL DRUGS: On Sept. 27 Deputy Travis Bowes & Dfc. Jason Graves were in the area of Three Notch Road and Chaffee Court in reference to a suspicious person/vehicle call. Investigation revealed Johnathan Adrian Marshall, 37, of Waldorf, and Derek Anthony Carroll, 23, of Waldorf, were filling a disabled 2000 Ford Explorer with gasoline. As the deputies were speaking with Marshall and Carroll they observed in plain view a clear plastic bag containing suspected powdered cocaine on the driver's seat. A search of the vehicle revealed a metal spoon with burnt suspected cocaine residue in the vehicle. Also recovered from the vehicle was suspected crack cocaine in the center consol. Marshall and Carroll were arrested and charged with possession of cocaine and possession of controlled dangerous substance paraphernalia.
SECOND DEGREE ASSAULT: On Sept. 28 in Tall Timbers Deputy S. Ruest responded to and investigated a domestic assault complaint. Investigation revealed George Leo Bean, Jr., 47, of Tall Timbers, engaged in a verbal argument which escalated into a physical altercation. Mr. Bean threw a boot at the victim striking her in the thigh. George Bean, Jr. was arrested and charged with second degree assault.
MOTOR VEHICLE THEFT: On Sept. 29 at approximately 12:00 a.m., a lookout was broadcast for a blue Dodge Intrepid with Maryland registration. The vehicle was stolen from Sell Drive in Lexington Park. The vehicle was being followed by a witness on Pegg Road. Deputies in the area located the vehicle in the area of Kreigle Court in Lexington Park. Deputy J. Vezzosi followed the vehicle to the end of the cul-de-sac of Kreigle Court at which time the driver stopped abruptly and jumped out of the vehicle. Deputy Vezzosi gave chase. Deputy Vezzosi was able to catch the driver, identified as Alfred Lee Johnson, 22, of Great Mills. Johnson was charged with motor vehicle theft, theft over $500, and unauthorized use of a motor vehicle.
ILLEGAL DRUGS: On Sept. 29 Deputy First Class K. Meyer initiated a traffic stop on a 1995 Honda Accord. The operator, identified as Steve Lovell Thomas, 38, of Lexington Park, was not restrained by a seatbelt as required by Maryland law. As Dfc. Meyer was attempting to stop the vehicle he could see the driver make movement with both hands as if he was placing an object under the driver's seat. The driver then made several movements as if he was attempting to duck low in the vehicle. The driver eventually stopped the vehicle. Dfc. Meyer contacted Steve Thomas who was sweating profusely and fidgety. It appeared to Dfc. Meyer the driver was under the influence of a controlled dangerous substance. Dfc. Rishel and K-9 partner Mica arrived on the scene of the traffic stop. A K-9 drug scan of the vehicle resulted in an alert for possible controlled dangerous substances in the area. A probable cause search of the vehicle revealed a glass smoking device contained suspected controlled dangerous substance residue (suspected cocaine). Also located in the vehicle was a metal spoon containing suspected cocaine residue. Mr. Thomas was arrested and charged with possession of a controlled dangerous substance and possession of controlled dangerous substance paraphernalia.
VIOLATION OF A PROTECTIVE ORDER: On 03/17/08 a protective order was signed by Judge John Slade III and served upon Dewayne Mcclain Milburn, Sr., 29, of California, ordering no contact with the protected petitioner. On 09/29/08 Milburn made repeated phone calls and sent one text message to the petitioner. Mr. Milburn threatened the safety of the petitioner during the phone calls. Deputy W. Watters located and arrested Milburn for violating the conditions of the protective order.
CORRECTIONAL OFFICER OF THE QUARTER: Senior Correctional Officer First Class Delores M. Gray was recognized as Officer of the Quarter for the Second Quarter of 2008. She has proven herself to be a valuable member of the St. Mary's County Sheriff's Office.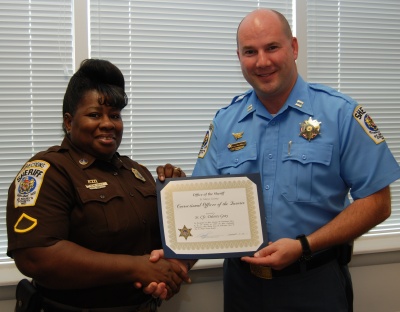 Senior CFC Gray is a reliable, punctual, and career orientated individual. Her twenty years of experience is an asset to all officers at the Detention Center. She has field trained many officers and instills in them her values and knowledge. Senior CFC Gray is passionate and thorough with her work.
Senior CFC Gray is always there to lend a helping hand and willing to assist no matter the task. She is not afraid to take action and get involved. Senior CFC Gray demonstrates great working skills as well as communication skills. She is supportive to her supervisor sand coworkers and can be trusted to complete her duties prior to securing for the day. There are many days she has stayed past her duty hours to complete tasks and does not put in for overtime.
Sheriff Timothy K. Cameron takes great pleasure in recognizing Senior Correctional Officer First Class Delores M. Gray as the Correctional Officer of the Second Quarter of 2008 for her commitment to the agency and the citizens of St. Mary's County.