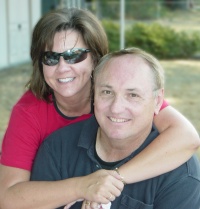 Maryland State Police helicopter pilot Stephen J. Bunker and his wife Sherry. Mr. Bunker was killed this weekend when the helicopter he was piloting crashed in bad weather after picking up victims of an auto accident in Waldorf.
WALDORF, Md. (Sept. 29, 2008)—The family of deceased Maryland State Police Pilot Stephen J. Bunker today released a statement expressing grief over the loss of their father and husband and the three others who were killed in a helicopter crash around midnight Saturday. The Bunker family resides in Waldorf.
"Our thoughts and prayers go out to the families who lost their loved ones in this tragic accident," said wife Sherry Bunker. "Steve was a loving, devoted husband and father, and we will miss him more than words can say. Being a pilot for the Maryland State Police fulfilled a life long dream for Steve. He loved helping people and he loved aviation. Being a pilot for the Maryland State Police enabled him to do both. Over his career in aviation, Steve and his colleagues saved countless lives. He was a hero to his family and all who knew him. He died doing what he loved to do. My husband was a rock within our family for 23 years. He has been, and will forever be, the love of my life."
Bunker's three children expressed adoration for their father.
"My father has always been a role model in my life. He taught me to be honest, work hard, and keep life in proper perspective," said daughter Stacie Bunker. "He is truly my hero."
"I couldn't imagine having a better father," said daughter Shelby Bunker. "I'm really going to miss him."
"He was a great Dad," said son Scott Bunker. "I'm proud to have had a father who risked his life daily to save others. He is my hero."
The Bunker family, via the MSP, has asked the media to respect their privacy during their grieving period.
Mr. Bunker was piloting the MSP helicopter, known as Trooper 2, which crashed in heavy fog with five souls onboard. The helicopter had just picked up two victims and an emergency medical technician after a car accident in Waldorf.
The other victims were Trooper First Class Mickey C. Lippy, 34, of Westminster, Md., the State Police flight paramedic; Tanya Mallard, 39, of Waldorf, an EMT-B with the Waldorf Rescue Squad; and Ashley J. Younger, 17, of Waldorf, who was a patient being transported.
The surviving victim of the crash is Jordan A. Wells, 18, of Waldorf. Wells is currently undergoing treatment at the Maryland Shock Trauma Center in Baltimore for injuries sustained in the car accident and the subsequent helicopter crash. Wells was the driver of the at-fault car in the two vehicle accident.