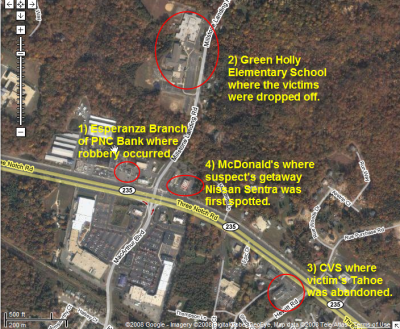 Map highlighting the chronology of Wednesday's kidnapping and bank robbery in St. Mary's. Click for higher resolution map. (Basic map courtesy of Google Maps)
CALLAWAY, Md. (Sept. 25, 2008, 4:24 p.m.)—Additional information has become available about the chronology of the kidnapping and subsequent robbery of the PNC Bank in California on Wednesday.
The abduction of the victim, LaToya Booth, 27, and her two children from their Lusby home occurred at approximately 6:15 a.m., according to the Calvert County Sheriff's Office. No one else was at the victim's residence at the time of the abduction, according to Lt. Rick Burris, Commander of the Bureau of Criminal Investigations in St. Mary's County. Det. Michael Moore of the Calvert Investigative Team confirmed that Calvert police searched the residence and found no one inside.
The first 911 call in St. Marys for the abduction & bank robbery came in at 7:53 a.m., according to Cindy Allen, public information officer for the St. Marys County Sheriff's Office. "The call came from the PNC bank. We are not identifying the name of the caller/witness at this [time]," added Allen.
A second 911 call was also made from the Green Holly Elementary School where the victims were dropped off by the suspects. After receiving the 911 calls, police in St. Mary's alerted authorities in Calvert, according to Burris.
According to Allen, the names of the 911 callers were not being released for their safety as the suspects are still at large. Allen said the 911 tapes were also not being released at this time.
The Esperanza branch of the PNC bank was not scheduled to open until 9:00 a.m. on Wednesday. The Drive-up window was scheduled to open at 8:30 a.m.
When asked about reports that investigators were exploring the possibility that Booth may have known the abductors, Allen dismissed our suggestion that it may have been an inside job and said, "It's obvious that this was a well planned event."
Calvert Sheriff Mike Evans also told the Washington Post, "I just have this gut feeling that there's more to this than is being told."