By ELI SEGALL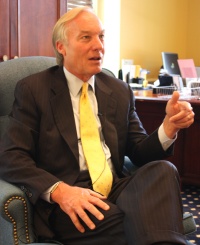 Md. Comptroller Peter Franchot. (Photo by Maryland Newsline's Laurie White)
ANNAPOLIS - State Comptroller Peter Franchot, the most visible opponent to the November slots referendum, has clashed with fellow Democrats, slammed pro-slots interest groups, and, above all, raised his profile. He sat down Wednesday with Capital News Service in his office to discuss the ailing economy, his political ambitions and the ballot item, which would bring up to 15,000 slot machines to the state.
Here are some excerpts:
Q:
You've used pretty harsh rhetoric about the Nov. 4 slots referendum. You called the Canada-based parent company of two Maryland racetracks "a sleazy foreign company," and you described the promise of slots revenue as "snake oil." Why the harsh rhetoric?
A:
I think I left out that slots are the crack cocaine of gambling. ... Slots are the wrong decision for the state to go in; I don't think they're going to fix the deficit, I don't think they're going to add money to education funding, and I think they're going to hurt Marylanders.
Q:
The speeches you've given about slots have been described as akin to campaign stumping. Do you agree? Are you trying to raise your profile with this issue?
A:
We are in a campaign, make no bones about it. ... [But] it's not about me; it doesn't have anything to do with my future. As you referenced, it's probably bad for my future because the odds are, according to all the experts, is that we'll lose. I disagree, I think we're going to win, but if we do lose I'll happily accept any consequences.
Q:
Could there be state intervention for Maryland-based financial firms similar to what the Treasury and Federal Reserve are doing for investment banks in New York?
A:
The federal government is broke, but they're borrowing more money to do the bailout. We're broke, but we can't borrow money.
Q:
Why not?
A:
We have to have a balanced budget each year ... and the federal government has access to the Federal Treasury. So they have a great big Visa card. We have a very small Visa card.
Q:
How will the turmoil affect the state's pension funds? The latest figures, as of Aug. 31, show the State Retirement and Pension System at $35.8 billion.
A:
At one point it was $41 billion, so it's dropped substantially.
Q:
Is that a concern for you, or do you see it as a cyclical problem in the market?
A:
It's a significant area of concern. ... But that's not something people are going to lose their pensions over. We have an obligation and we will put money, if necessary, from the general fund into the pension system.
Q:
Should the pension fund take a different direction with its investments?
A:
We've already done that. ... [We're] moving billions of dollars out of U.S. equity and U.S. fixed income. That's been underway since January.
Q:
If the slots referendum gets rejected, will you parlay that into a run for governor or U.S. Senate?
A:
I'm perfectly content to be comptroller for the rest of my career; nobody, including my own mother, thought I was going to win.
Q:
Do you think it would hurt the state Democratic Party if you ran against Gov. Martin O'Malley?
A:
Nobody wants a messy Democratic primary because those are always difficult circumstances.
Q:
So is that something you would rule out?
A:
I've said that I'm going to run for re-election as comptroller. I like my job. I show up every day, I've got a smile on my face, I've got Louis Goldstein's statue right out here on my lawn, an incredible staff that I work with, and I think we're making an impact on the state - a positive impact.