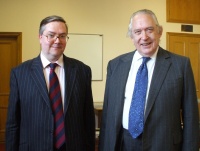 Dr. Nicholas Crowe (left), senior dean at the Centre for Medieval and Renaissance Studies, with the founder and principal, Dr. John Feneley.
ST. MARY'S CITY, Md. (Sept.16, 2008)—From England's "city of dreaming spires," Dr. Nicholas Crowe, of Oxford, England, will visit St. Mary's College of Maryland (SMCM) for a lecture Tuesday, September 23, at 7 p.m. in St. Mary's Hall. The senior dean at the Centre for Medieval and Renaissance Studies (CMRS) in Oxford will present a lecture entitled, "Turbulence and Toleration: Enlightenment Oxford and Her New-World Exports." A reception will follow at the reconstructed 1676 Statehouse of Historic St. Mary's City. The lecture is free and open to the public.
Oxford in the Age of Enlightenment was a place of ferment and upheaval. This lecture explores the cultural and intellectual life of Oxford in the 17th and 18th centuries, and paints a backdrop to the influence exerted by notable alumni - such as John Locke - on the complexion of the New World. Its schools and thinkers had a profound impact on the development of early America, especially the colony of Maryland, and the emergence of ideas about democracy.
While acting as dean of CMRS, Crowe also serves as academic librarian, assisting with the preservation of the holdings of the Feneley Library at Oxford. He is the founding director of the John and Sandra Feneley Seminar and the Jack Coopersmith Seminar for friends and alumni of CMRS. A 1987 graduate of Hertford College, Oxford University, Crowe received his Ph.D. in comparative literature from Trinity Hall, Cambridge University, in 1991. At Oxford he received first-class honors and placed first in University in Russian/French. He received the Andrew Colin Prize in Russian in 1985. Since 1991, Crowe has been research fellow, lecturer, and tutor for the colleges of Oxford University, and since 2004 has been senior dean at CMRS. He is an innovative scholar, with activities ranging from translating and interpreting 16th and 17th century manuscripts and publications to the studies of censorship in the Russian Empire.