By DAVID HILL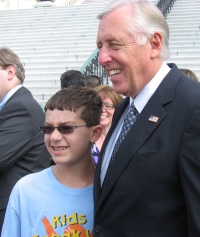 Joshua Danoff, of Reisterstown, and House Majority Leader Steny Hoyer, D-Mechanicsville, pose for pictures on the U.S. Capitol steps Wednesday at a celebration of the passage of the Americans with Disabilities Amendments Act. (Photo: David Hill, Capital News Service)
WASHINGTON (Sept. 18, 2008)—Joshua Danoff is a typical 12-year-old—he has homework and chores and plays the clarinet.
He also has epilepsy.
That's led the Reisterstown eighth-grader to be an activist, raising awareness of the neurological disorder and encouraging those who have it.
"People with epilepsy can do whatever they want," said Joshua. "Because epilepsy isn't who you are."
Joshua and his mother, Claudia Danoff, were in Washington Wednesday to celebrate the U.S. Senate and House's passage of the Americans with Disabilities Amendments Act.
The bill's chief House sponsor is Majority Leader Steny Hoyer, D-Mechanicsville. President Bush plans to sign the bill, which calls for broader interpretation of the term "disabled," allowing more Americans protection from discrimination.
Joshua is no newcomer to Capitol Hill. In 2006 and 2007, he participated in Kids Speak Up!, an annual epilepsy awareness conference held in Washington. He was one of fewer than 50 children chosen to represent the more than 300,000 nationwide who have epilepsy. Joshua told his story and spoke personally with lawmakers.
"It's good that I can make something good out of the situation," he said. "I can use it to help others."
Joshua first showed symptoms of epilepsy when he was about 18 months old. He would make strange faces and fall to the ground. His parents thought he was "clowning around" until it became more serious.
"That's when we thought there was something wrong," said Claudia Danoff.
Even with medication and doctor's trips, the seizures continued. In 2003, at age 7, he went in for brain surgery to remove a benign tumor that doctors believed caused the seizures.
"I didn't really understand how life-threatening or what the risks were," Joshua said. "I was excited to get it done so I wouldn't have these issues anymore."
The surgery appeared successful. Joshua was seizure-free and off medication. But three years later, he got a "funny feeling" one day in gym class.
"I wasn't quite sure what it was," he said. "But I remember that I always had to look out for the seizures if they came back."
Despite the return of his seizures, Joshua has continued to take things in stride. He must avoid strobe lights and be careful when exercising, but he otherwise leads a relatively unencumbered life.
"My case is less severe, but some other people are less fortunate," said Joshua. "I can help them and other people with epilepsy."
Capital News Service contributed to this report.