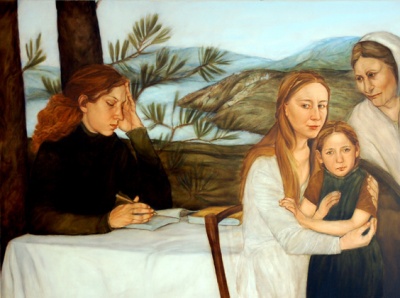 An example of SMCM artist-in-residence Hannah Finlator's work.
ST. MARY'S CITY, Md. (Sept. 17, 2008) - The first St. Mary's College of Maryland (SMCM) Artist Talk of the semester features artist-in-residence Hannah Finlator Wednesday, September 17, at 8:30 p.m. in Goodpaster Lecture Hall. Finlator, whose Northern Renaissance-style art has been exhibited throughout the United States, Europe, and South America, will present a lecture entitled "Artist and Influences." The event is free and open to the public.
"Finlator employs the tradition of panel painting in the minute detail prevalent in early painting. Her figures have a seriousness and strength of character," said Caroline Greener, from Audiences North East, a British publication that covers cultural events in England.
Finlator is an Artist House artist-in-residence for the month of September at SMCM. She received a Bachelor of Fine Arts from the Corcoran College of Art and Design in 2000 and a Master of Fine Arts in painting from Newcastle upon Tyne University in 2002. Finlator developed her painting method through the study of Northern Renaissance oil painting. Her works have been exhibited widely in Europe and Great Britain, where she currently lives and works.
In Washington, Finlator combined studio and academic pursuits through research within the collections of the Corcoran Gallery, Smithsonian Museums and National Museum of Women in the Arts. Through direct access to works in the archives she began to apply an interpretation of classical painting, also giving rise to her principal source of reference: women painters of the 16th century. Her art has been exhibited internationally in venues at the Royal Society of Portrait Painters Annual Exhibition in the Hatton Gallery, United Kingdom; the Artist in Residence Batuz Foundation in Sachsen, Germany; and the Société Imaginaire touring exhibition in Germany. Other works have been displayed in Poland, Uruguay, Belgium, and the United States.
Finlator has contributed texts to several exhibition catalogs for exhibits in Spain and Holland, as well as the National Holocaust Memorial Day program. Finlator was awarded an Individual Artist Grant in 2004 and Artist Development Grant in 2006 by Arts Council England.