By Andrea Shiell, County Times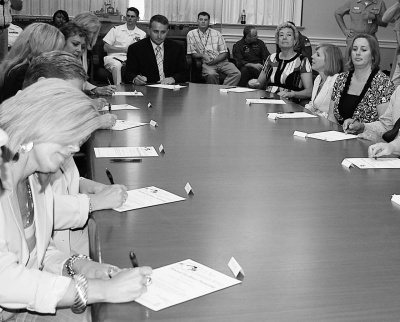 Principals from 15 schools in southern Maryland renewed their partnership agreements with Patuxent River Naval Air Station at a ceremony on Tuesday, Sept. 9. (Photo: Andrea Shiell)
HOLLYWOOD, Md. (Sept. 11, 2008)—Crowds of school officials and military personnel stood around a long table where 15 of the area's school principals sat and smiled on Tuesday. They were all there to celebrate the kickoff of this year's Personal Excellence Partnership.
Among those in attendance were Linda Dudderar, Chief Academic Officer for St. Mary's County, and School Board members Sal Raspa, Mary Washington, Cathy Allen, Gary Kessler, and Bill Mattingly. Also attending were Jack Smith, Superintendent of Schools for Calvert County, and School Board President Frank Smith, as well as the station's gracious host, Naval Air Station Commanding Officer Capt. Andy Macyko.
"This is all about the partnership with the base," explained Mattingly, adding that the school system's goal remains to train the future work force for the area, and the base in particular. With respect to recruitment, Mattingly said he remains a strong supporter of the "grow your own" concept that has been voiced repeatedly within the Board of Education.
"We've done recruiting all over the country," said Kessler as he echoed Mattingly's sentiments. "And we get the employees here from other states, but they get homesick and they leave," he said, adding that mentorship and training early on could help both the school system and the base fulfill their needs with permanent, rather than transitory, personnel.
The Personal Excellence Partnership has been in existence for several years, its purpose being to provide mentoring services through partnerships with Navy units and local area public, private, and parochial schools. "They provide volunteers to all of our schools, and they provide tutoring and support," said Dudderar. "PEP is such an important program… last year in St. Mary's County Public Schools we enjoyed more than 54,000 hours of volunteer work," she said, adding that many of those hours had been provided by base personnel. She said she hopes to see the partnership grow.
PEP Coordinator and First Class Petty Officer Carlos Young mentioned his experience as a youth pastor as he addressed the crowd and reflected on his involvement with the partnership and the community. "A river always pours into something bigger and larger than itself," he said. "Together we can save this community and we can build it as great as it can be."
Macyko signed each partnership agreement after principals from the area schools did so, but not before mentioning several quotes that he felt related to this program and its importance to him. He began with a quote from Eleanor Roosevelt that he said embodied the spirit of volunteerism better than any other he had heard. "Our own success, to be real, must contribute to the success of others," he said, as all nodded in agreement.