LEONARDTOWN, Md. (Sept. 8, 2008) - The St. Mary's County Sheriff's Office today released the following incident and arrest reports.
SEX OFFENDER VIOLATION: BCI detectives arrested Matthew R. Frazier, 25, of Lexington Park, on September 5 for failing to register as a sex offender. Frazier, who was convicted in 2001 for a sex offense against a child, had been arrested by detectives on August 27, 2008 for failing to register as a sex offender and was released on personal recognizance and required to register within 5 days of his release. He failed to register after his release and was again arrested, at his home on the September 5th. He was released on bond and registered today.
ARREST FOR KFC ROBBERY: On September 5 BCI detectives arrested Darvin C. Brooks, 40, of Lexington Park and charged him with attempted armed robbery and first degree assault for the September 3 attempted armed robbery of the KFC restaurant in Lexington Park. He was incarcerated at the St. Mary's County Detention Center.
DEPUTY SHERIFF OF THE QUARTER: The following officer was recognized as Officer of the Quarter for the Second Quarter of 2008. Senior Deputy First Class Deborah L. Milam has proven herself to be a valuable member of the St. Mary's County Sheriff's Office.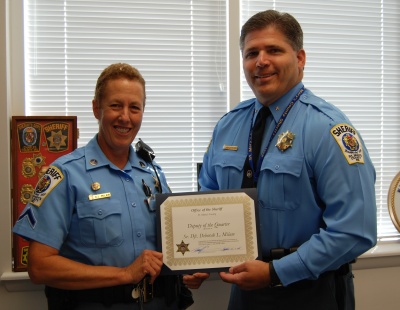 Senior DFC Milam is a very professional and courteous employee who goes the extra mile to accomplish a task. Her performance is outstanding and she is very unselfish by dividing her time to assist her fellow officers and supervisors. Senior DFC Milam does not hesitate to remain at headquarters to assist her fellow officers with their reports and investigations. She is a team player and in the absence of her first line supervisor she can be relied upon to collect any paperwork and ensure calls for services are handled expeditiously and in the utmost professional manner. To highlight one particular incident in this would fail to illustrate Senior DFC Milam's true strength which is not how she handles her duties, but in how she assists her squad mates in performing theirs. This element of teamwork is commonly overlooked, but critical to the success of the squad and the mission of the Sheriff's Office.
Sheriff Timothy K. Cameron takes great pleasure in recognizing Senior Deputy First Class Deborah L. Milam as the Deputy Sheriff of the Second Quarter of 2008 for her dedication to the agency and the citizens of St. Mary's County.