New Quarantine Expands Restrictions on Ash and Hardwood Firewood; Citizens Asked to Help Stop the Beetle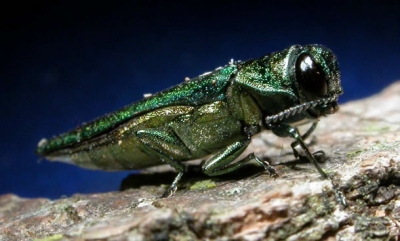 The Emerald Ash Borer insect, such as the one pictured above, threatens to destroy all Ash trees in Charles County. The pest has spread from nearby Prince George's County. More photos at
www.emeraldashborer.info/photos.cfm
. (Photo Courtesy emeraldashborer.info)
ANNAPOLIS (Sept. 4, 2008) – The Maryland Department of Agriculture (MDA) has confirmed a new emerald ash borer (Agrilus planipennis) detection in a wooded area in Charles County just over the border from Prince George's County. The emerald ash borer is an invasive pest from Asia that feeds on and kills ash trees, an important landscaping and forest tree, in one to three years after infestation.
The detection, made by MDA field staff on August 15 and confirmed by the U.S. Department of Agriculture on August 25, is about two miles outside the current Prince George's County eradication zone and about ½ mile from the location where an emerald ash borer was trapped earlier this summer. This find is thought to be related to the initial 2003 introduction of the emerald ash borer to Prince George's County.
On August 26, Agriculture Secretary Roger Richardson expanded the existing Quarantine Order to include all of Charles County per federal protocols and to extend a more intensive quarantine area into the northern part of the county.
"We are grateful for the cooperation of homeowners and citizens in Prince George's County as well as campers and anglers around the state to help us contain this destructive pest," said Agriculture Secretary Roger Richardson. "We are working together with our federal, state, and local partners, but we rely upon cooperation from the community to follow the quarantine restrictions to report signs of possible infestation. We call upon the residents of Charles County to do the same."
The revised quarantine prohibits anyone from moving ash trees or any hardwood firewood out of Prince George's and Charles counties until further notice. The protocol to date used in Maryland has been eradication by removal and destruction of all ash trees in defined areas followed by on-going surveillance. A scientific panel is discussing the best course of action given the new detection in Charles County.
"We are continuing to assess the situation, including sending samples to the USDA to determine the age of the infestation, conducting delimiting survey in the area to get a better idea of how widespread it is, and assembling a team to work with the USDA Emerald Ash Borer Science Panel and Management Team to determine a course of action," said MDA Plant Protection and Weed Management Program Manager, Carol Holko.
An earlier detection of the pest in Prince George's County was made in August 2006, prompting the issuance of a county-wide quarantine prohibiting the movement of all hardwood firewood, ash trees and ash products out of the county. These affected trees were discovered during survey and eradication efforts begun after the detection of the insect in Maryland in 2003, when a Michigan nurseryman illegally shipped infested trees to a Prince George's County nursery.
Since 2003, efforts to eradicate the insect have included the collection and destruction of all trees sent to Maryland from the Michigan nurseryman, destruction of all ash trees within a ½ mile radius of the introduction point, and three years of surveillance, which detected no additional emerald ash borers until now.
Presence of the emerald ash borer typically goes undetected until trees show symptoms of being infested – usually the upper third of a tree will thin and then die back. This is usually followed by a large number of shoots or branches arising below the dead portions of the trunk. Other symptoms of infestation include: small D-shaped exit holes in the bark where adults have emerged, vertical splits in the bark, and distinct serpentine-shaped tunnels beneath the bark in the cambium, where larvae effectively stop food and water movement in the tree, starving it to death.
In order to help stop this damaging beetle, homeowners and citizens who live in and travel through Prince George's and Charles counties can help:
• Don't move firewood – buy it where you burn it. Hauling firewood is the most common way for damaging plant pests to be moved from one area to another. In addition, the state quarantine prohibits anyone from moving hardwood firewood or any other ash tree materials out of Prince George's or Charles counties.
• Don't plant ash trees in the southern half of Prince George's County or northern half of Charles County (refer to quarantine or map for specific boundaries). While people can still legally plant ash trees in other parts of the counties, alternate tree species are recommended for residential landscaping.
• Report any signs of the emerald ash borer to the University of Maryland Home and Garden Information Center at 1-800-342-2507 or the Maryland Department of Agriculture at 410-841-5920.
Maryland's nursery and greenhouse industry accounts for $303 million of the state's $1.4 billion agriculture industry. Ash is the most common tree in Baltimore City with approximately 293,000 trees and accounts for about six million trees in Baltimore and surrounding counties. The U.S. Department of Agriculture has estimated that losses could exceed $227.5 million in the Baltimore area alone if the emerald ash borer were to become established.
For information about the emerald ash borer quarantine and restrictions within the more intensive or "nested" quarantine area, please visit
www.mda.state.md.us/plants-pests/eab/current.php
.
Additional Emerald Ash Borer Resources:
Emerald Ash Borer (multistate effort in Michigan, Ohio and Indiana):
www.emeraldashborer.info
Maryland Department of Natural Resources:
www.dnr.state.md.us/forests/forester/eab.asp
USDA APHIS PPQ:
http://www.aphis.usda.gov/ppq/ep/eab/
Barrenador Verde Esmeralda del Fresno en Español,
http://www.entm.purdue.edu/EAB/espanol/
Source: Maryland Department of Agriculture
RELATED INFORMATION:
Invasive Beetle Threatens Area Ash Trees, Jan. 17, 2007
http://somd.com/news/headlines/2007/5198.shtml
Insect Threatens to Kill All Ash Trees in Md., All of USA Eventually, Jan. 11, 2007
http://somd.com/news/headlines/2007/5156.shtml