By LAUREN C. WILLIAMS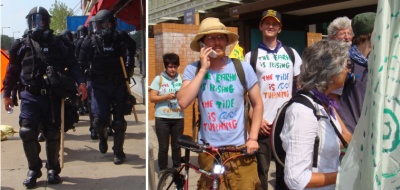 Saint Paul Police, dressed in militaristic full body armor, including full-face breathing apparatus, move in double-file lines to barricade 10th Street in downtown St. Paul Monday to help contain the citizens protesting against Republican policies, such as the group of people shown on the right. (Photos: Lauren Williams, CNS)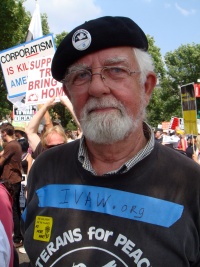 Larry Egbert, Baltimore, 81, is a war veteran and medical ethics professor at Johns Hopkins University and has been an anti-war protester since his return from Vietnam. He is displaying the URL for Iraq Veterans Against the War (ivaw.org) (Photo: Lauren Williams, CNS)
ST. PAUL, Minn. (Sept. 2, 2008) - The Maryland Republican delegation was greeted by a bold protester who stormed onto their charter bus shouting as they returned from a trip to the circus Monday afternoon.
Delegate Arne Schoeller Jr. said that on the way back to Xcel Energy Center, the site of the Republican National Convention, his bus driver was talking to Saint Paul Police when a protester boarded the bus uninvited.
"There were protesters laying on the ground, giving us the finger," Schoeller, of Baltimore, said. "One got on the bus and 'thanked' us profanely, saying 'Thank you for (expletive) up this country' or something along those lines."
The city of St. Paul braced itself Monday for nearly 10,000 anti-war protesters, in part by lining downtown streets with heavily armored police officers. The protesters were supposed to march from the State Capitol building to the Xcel Center, but their route was changed.
Several hundred protesters broke away from the mass before the departure from the Capitol building and police scurried to contain them, which led to a police-altered route for protesters.
Takoma Park resident Nadine Bloch came to protest "war and warming," she said, referring to the war in Iraq and global warming.
"They are linked," said Bloch, organizing director of Oil Change International USA and a longtime community activist in Maryland.
There is too much integration of oil money in our political system, said Bloch, and added "We need a separation of oil and state."
"We are not doing the Iraqi people, the American people or the world any good with this war," Bloch said.
With a dove printed on his shirt, Larry Egbert, 81, of Baltimore, also wants to stop war. Egbert, a medical ethics instructor at Johns Hopkins University, served in battle twice, once in World War II with the Army and once in Vietnam with the Navy.
"The war in general will lead to the end of us," said Egbert, a member of Veterans of Peace.
Egbert was drafted to fight in World War II halfway through his college career at the age of 19. After completing medical school, he entered Vietnam in the Navy's medical unit.
"I was called to duty both times and I did my duty," said Egbert.
Two years after they sent him back from Vietnam, Egbert started protesting against war.
Delegate Schoeller grew up during the Vietnam War and recalls being "worried about the people in Vietnam and what would happen to them if we left," he said Sunday.
"It was wrong, going into someone's country who did nothing to us," Egbert said. "When you want to help somebody, you don't bring a rifle."
Capital News Service contributed to this report.