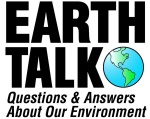 From the Editors of E/The Environmental Magazine
Dear EarthTalk: I heard that children are reaching puberty at earlier ages now and that it may have to do with environmental toxins and even their TV viewing habits. Can you enlighten?
-- Mark Abbot, via e-mail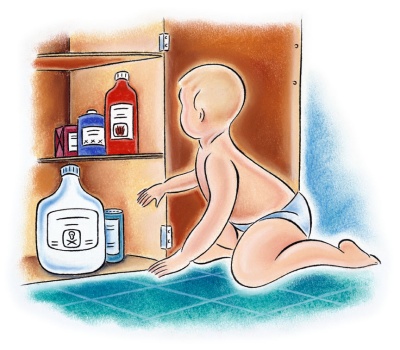 Some researchers believe that the preponderance of synthetic chemicals in more developed societies are interfering with human endocrine development and essentially "tricking" kids' bodies into going through puberty prematurely. (Illustration: Getty Images)
To say that kids are growing up faster than ever these days may be more than just cliché. Recent studies have shown that children are reaching puberty at younger and younger ages, and researchers are starting to see links between this trend and other societal ills such as ubiquitous pollution and sedentary lifestyles.
In a 2007 report for the Breast Cancer Fund entitled "The Falling Age of Puberty in U.S. Girls: What We Know, What We Need to Know," ecologist Sandra Steingraber argues that unfettered access to computers and TVs over the last 30 years has led to an increasingly sedentary lifestyle among kids in the U.S. and beyond. Active kids produce more melatonin, a natural hormone that serves as the body's internal clock and calendar. This could explain why sedentary kids are likely to go through puberty sooner: Their bodies think their decreased melatonin production is a trigger to move into puberty. "[Melatonin is] an inhibitory signal for puberty," says Steingraber. "The more melatonin you have, the later you go into puberty."
Of course, sedentary lifestyles are also linked to childhood obesity, a condition that often continues-along with the many health problems that can accompany it-into adulthood. A recent National Health and Nutrition Examination Survey (NHANES) found that, between 2001 and 2004, 17.5 percent of children ages six to 11 were overweight-an effective doubling of obesity rates three decades ago. A study by the non-profit Obesity Society came up with a slightly higher figure-20 percent-with the percentages higher for Hispanic, African-American and Native American children.
Obesity is certainly one factor in the surge in so-called "precocious" adolescence, but chemicals are also thought to play a role. According to Erin Barnes, writing in E - The Environmental Magazine, a study comparing the body mass index of Danish and American girls found that the former group hit puberty a full year later than the latter even though their weights were in the same range. Another study found that wealthy girls in South Africa reach puberty a full year after their African-American counterparts. "Many researchers," writes Barnes, "are studying the relationship between chemical pollutants like PCBs (polychlorinated bphenyls) and phthalates (commonly used plasticizers) and premature development."
Some researchers believe that the preponderance of synthetic chemicals in more developed societies are interfering with human endocrine development and essentially "tricking" kids' bodies into going through puberty prematurely. Also, precocious puberty in girls has been linked to breast cancer, as well as higher rates of drug abuse, violence, unintended pregnancies, problems in school and mental health issues.
"Shortening childhood means a shortening of the time before the brain's complete re-sculpting occurs," says Steingraber. "Once that happens, the brain doesn't allow for complex learning." She adds that the brain can only build the connections used to learn a language, play a musical instrument or ride a bike before it gets flooded with the sex hormones that come with the onset of puberty.
CONTACTS: Breast Cancer Fund,
www.breastcancerfund.org
; National Health and Nutrition Examination Survey,
www.cdc.gov/nchs/nhanes.htm
; Obesity Society,
www.obesity.org
.
Dear EarthTalk: What's going on with all the cases of autism cropping up and no one seems to know why? It stands to reason it must be something (or some things) environmental, yet every study allegedly turns up no conclusion? What are the possible causes?
-- Jessica W., Austin, TX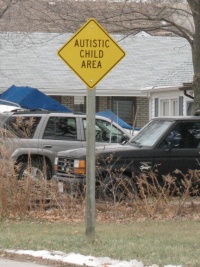 Autism affects one in every 150 children born today in the U.S., up from one in 500 as recently as just 10 years ago. (Photo: jbcurio, courtesy Flickr)
No doubt about it, autism rates have skyrocketed in the U.S. and beyond in recent years. According to the Centers for Disease Control and Prevention, the disease affects one in every 150 children born today in the U.S., up from one in 500 as recently as just 10 years ago. It's become the fastest-growing developmental disability-more prevalent than childhood cancer, juvenile diabetes and pediatric AIDS combined-and it continues to grow at a rate of 10 to 17 percent per year.
While researchers think there is a genetic component to autism, they also believe environmental factors are playing a role in its recent increase. Environmental mercury and other heavy metal exposure, contaminated water, pesticides, a greater reliance on antibiotics-and even extensive television viewing by very young children-may be factors in mounting autism rates. Researchers at the American Academy of Pediatrics and other institutes have also identified flame retardants as possible culprits.
Vaccines containing the mercury preservative thimerosal (now mostly removed from the market) have long been blamed for causing autism, but scientific links are inconclusive. In lieu of a smoking gun, a more complex picture of autism's environmental causes is now emerging.
Some researchers are focusing on the role of food in a young child's development. Many autistic children suffer from digestive diseases or have genetic dispositions rendering them unable to naturally rid their bodies of toxins. As such, exposure to heavy metals, pesticides, contaminated water and even processed food could have a devastating cumulative effect, some researchers think. According to Brian MacFabe, a researcher at the University of Western Ontario who has studied autism triggers in rats, simple changes such as removing wheat and dairy from the diet could potentially bring about improvements.
Groups such as the nonprofit Healthy Child Healthy World say it's about time researchers are looking at environmental factors. "Whatever triggered this current autism epidemic...autistic kids clearly need extra protection from further environmental assault," the group writes on its blog. They advise parents to be vigilant about the industrial cleaners used in school buildings and the pesticides sprayed on playing fields, where kids spend 25 to 30 hours per week. They and other groups are also looking at the role of untested chemicals in common cleaning products: phthalates, glycol ethers and other known toxins.
Others wonder if a collective "nature deficit disorder" among children plays a factor in rising autism rates. Outdoor exposure has long been associated with healthier cognitive functioning in children, with reduction in Attention Deficit Disorder symptoms and greater emotional capacity. But new findings suggest it could impact autism, too. Last year, Cornell University researchers found higher rates of autism in counties where more households subscribed to cable and children under the age of three regularly watched TV. The Amish, with almost no exposure to TV, have little evidence of autism, notes the study.
CONTACTS: CDC Autism Information Center,
www.cdc.gov/ncbddd/autism
; Healthy Child Healthy World,
www.healthychild.org
.
Dear EarthTalk: Can those energy-efficient compact fluorescent light bulbs that are popular now cause headaches because of the flickering they do? I converted my whole house over last fall and both my kids were complaining of headaches on and off.
-- Sandy, Eugene, OR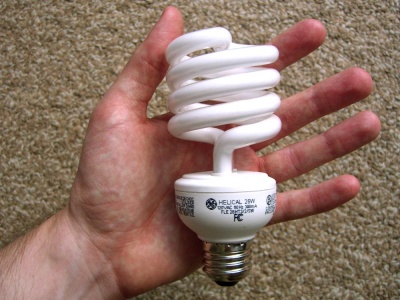 Energy efficient compact fluorescent light bulbs (CFLs) are taking the world by storm. But can they cause headaches due to flickering? Most experts say no: Unlike the older long tube fluorescent lights, the flicker rate of the new CFLs is way too fast for the human eye or brain to detect." (Photo: armisteadbooker, courtesy Flickr)
With a switch to energy efficient compact fluorescent (CFL) light bulbs already in full swing in the U.S. and elsewhere-Australia has banned incandescents, Britain will soon, and the U.S. begins a phase-out of incandescents in 2012-more and more complaints have arisen about the new bulbs causing headaches.
Many experts say that the issue is being overblown, however, that there is no scientific evidence that the bulbs cause headaches and that a kind of hysteria has grown out of a small number of anecdotal reports.
Industry experts acknowledge that day-to-day exposure to older, magnetically ballasted long tube fluorescent bulbs found mostly in industrial and institutional settings could cause headaches due to their noticeable flicker rate. The human brain can detect the 60 cycles per second such older bulbs need to refresh themselves to keep putting out light.
However, modern, electronically ballasted CFLs refresh themselves at between 10,000 and 40,000 cycles per second, rates too fast for the human eye or brain to detect. "As far as I'm aware there is no association between headaches and the use of compact fluorescent lamps," says Phil Scarbro of Energy Federation Incorporated (EFI), a leading distributor of energy efficiency-related products-including many CFLs.
But Magda Havas, an Environmental & Resource Studies Ph.D. at Canada's Trent University, says that some CFLs emit radio frequency radiation that can cause fatigue, dizziness, ringing in the ears, eyestrain, even migraines. You can test to see if CFLs in your home give off such radiation, she says, by putting a portable AM radio near one that's on and listening for extra static the closer you get. She says that such electromagnetic interference should also be of concern to people using cell phones and wireless computers.
Sometimes headaches are due to eyestrain from inadequate lighting. When replacing an incandescent bulb with a CFL, pay attention to the lumens, which indicate the amount of light a bulb gives out (watts measure the energy use of a bulb, not the light generated). A 40-watt incandescent bulb can be replaced by an 11-14 watt CFL because the lumen ouput is approximately the same (490); a 100-watt incandescent can be replaced by a 26-29 watt CFL, both providing about 1,750 lumens. If you're still skeptical, replace a 40-watt incandescent with a 60-watt equivalent 15-19 watt CFL, which will boost lumens to 900.
Another consideration is color temperature (measured in degrees "Kelvin"). CFLs rated at 2,700 Kelvin give off light in the more pleasing red/yellow end of the color spectrum, closer to that of most incandescents. Bulbs rated at 5,000 Kelvin and above (usually older ones) give off a less pleasing white/blue light.
The Environmental Defense website provides a handy chart comparing the watts and lumens of incandescents versus CFLs, along with further discussion about color temperature.
CONTACTS: EFI,
www.efi.org
; Environmental Defense,
www.edf.org/page.cfm?tagid=630
.
Dear EarthTalk: My pediatrician swears by those gel hand sanitizers for lowering the risk of my family getting sick during cold and flu season. But I've also heard that these products can be dangerous to kids if ingested. Are there any safer alternatives that work just as well?
-- Jason Blalock, Oakland, CA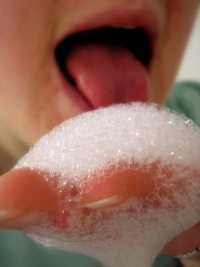 Although gel hand sanitizers have proven in tests to reduce gastrointestinal illnesses and the spread of contagions compared to ordinary soap and water, their high alcohol content can be poisonous to children who ingest them. (Photo: "Living is Easy with Eyes Closed," courtesy Flickr)
A 2005 study by the Children's Hospital in Boston compared illness rates across a study group of 292 families-half of them got hand sanitizers while the other half were given literature advising them of the benefits of frequent hand washing. The findings revealed that those families who used hand sanitizers experienced a 59 percent reduction in gastrointestinal illnesses and that the increased use of sanitizers correlated to a decreased spread of contagions in general.
Another study conducted at Colorado State University yielded similar conclusions, that alcohol-based hand sanitizers were as much as twice as effective as either regular soap or antibacterial soap at reducing germs on human hands. A Purdue University study, however, concluded that while alcohol-based hand sanitizers may kill more germs than plain or triclosan-based soaps, they do not prevent more infections that make people sick. Instead they may kill the human body's own beneficial bacteria by stripping the skin of its outer layer of oil.
The down side of the gel/alcohol products is their danger as poison, especially for young children who may ingest the gel by licking it off their hands or eating it directly out of dispensers. Purell and Germ-X, two of the leading brands, each contain 62 percent ethyl alcohol. While this alcohol is what gives the products their germ-busting power, it also puts kids at risk of alcohol poisoning. A few squirts of the hand sanitizer-which is equivalent to124 proof booze-is enough to make a kid's blood alcohol level .10, which is the equivalent of being legally drunk in most states.
So what's a concerned parent to do? Unfortunately, the so-called greener alternatives out there aren't safe to swallow either. EO Hand Sanitizer, for example, though it uses organic lavender oil also contains alcohol to sanitize the skin surface, and would also be considered poison if a large enough amount was ingested. Similarly greener (but still not safe to eat) products are available from Avant and All Terrain.
For now, soap and warm water-and constant nagging of your kids to wash their hands-may be the safest way to sanitize. Also, make sure that any hand sanitizer dispensers you may still use are kept out of the reach of little hands.
But who knows how we'll be sanitizing our hands in the future. Researchers at Arizona State University have found that certain types of natural clays pulled right from the ground are highly effective at killing bacteria. One type of green clay has been shown to do a number on E. coli, salmonella, staph and other bacteria known to make people sick. But the research is still in its infancy, so don't expect to see moms pulling jars of clay out of their purses anytime soon.
CONTACTS: EO Products,
www.eoproducts.com
; OrganicBeautySource.com,
www.organicbeautysource.com
; MotherNature.com,
www.mothernature.com
.
GOT AN ENVIRONMENTAL QUESTION?
Send it to: EarthTalk, c/o E/The Environmental Magazine, P.O. Box 5098, Westport, CT 06881, or e-mail: earthtalk (at) emagazine.com.