Gift Earns Donor His Name on CSM Science and Technology Building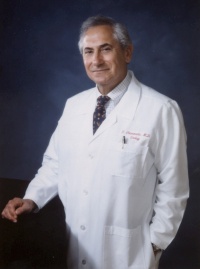 Francis P. Chiaramonte, M.D. has donated $1 million to CSM for which his name will be placed on Science & Technology building. (Submitted photo)
LA PLATA, Md. (Aug. 29, 2008)—The College of Southern Maryland on Friday announced the receipt of a $1 million donation from Francis P. Chiaramonte, M.D. Chiaramonte is the founder of Southern Maryland Hospital Center (SMHC) in Clinton. The gift is the largest private cash donation to the college in its 50-year history.
"Healthcare and education are the pillars of our community's well-being and I have, therefore, dedicated my life to those values. I am pleased to help the College of Southern Maryland fulfill its vital mission of educating our future workforce," said Dr. Chiaramonte.
Dr. Brad Gottfried, CSM President, said that the hospital and CSM have been working together for years. "As an employer of graduates of our nursing and allied health programs, Dr. Chiaramonte has a keen understanding of the important role that colleges play in helping to provide the community with outstanding healthcare," said Gottfried.
In recognition of Dr. Chiaramonte's gift, the newly renovated Science and Technology Building at the La Plata Campus will be named Francis P. Chiaramonte, M.D. Center for Science and Technology during a dedication ceremony at 3 p.m., Tuesday, Oct. 7.
As part of the CSM Foundation's $5-million "Campaign for the Next 50 Years: Envision the Potential-Make a Difference," this donation brings the college's first-ever major gifts campaign to $3.7 million raised in cash and pledges. In addition, the college has been successful in securing $3 million in grants that relate to the campaign initiatives.
"Dr. Chiaramonte has a long history as a community leader, a strong supporter of health care education, and a dedicated advocate for quality health care services. Through this generous gift to the College of Southern Maryland, Dr. Chiaramonte is providing a legacy that will benefit our students, and ultimately our community and local workforce, well into the future," said Besche Oil CEO Michael A. Besche, chair of CSM's Campaign for the Next 50 Years.