Thanks Charles County and Happy 350th Anniversary!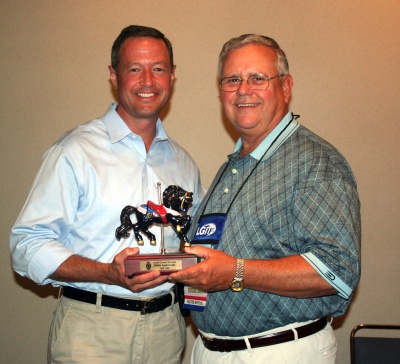 Maryland Governor Martin O'Malley thanked Charles County Commissioner President Wayne Cooper for the gift of a miniature carousel horse from the Charles County 350th Anniversary Committee. Presented last week at the MACo Conference in Ocean City, the one-of-a-kind and limited edition (only 350 will be available) horses are individually painted by the Southern Maryland Decorative Painters. Priced at $150 each, the commemoratives are mounted on a music box that plays the familiar tune, "As Time Goes By." For purchase locations, please contact the Charles County Department of Economic Development and Tourism at 301-645-0551. The 350th Anniversary Committee will also have the horses on sale at the Charles County Fair in September.
Shake Up in County Government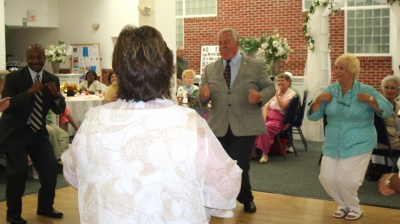 Charles County Commissioners Reuben B. Collins, II, and Samuel N. Graves, Jr., shook up the dance floor recently to help Marjorie Carberry (Senior Center Coordinator, Waldorf Senior Center) "boogie" into retirement from County Government. An overflow crowd of area seniors packed the Jaycees Hall in Waldorf, where they dined and danced to tunes from the 50s and 60s provided by local entertainer, Bernard Spriggs.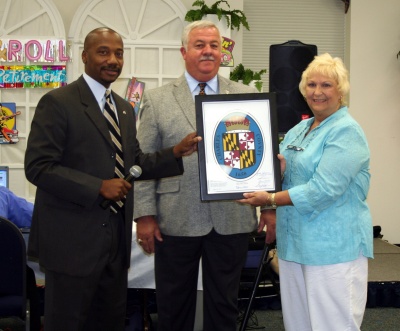 The Commissioners also presented Carberry with a County Seal for completing more than a decade of dedicated service to County Government.
Celebrating a True American Hero
Charles County Commissioners Wayne Cooper and Samuel N. Graves, Jr., sign tee-shirts and signs for Michael White, Sr. (far right) at the recent "Heroes at Home Project" in Waldorf.
Charles County Commissioners Wayne Cooper and Samuel N. Graves, Jr., honored Michael White, Sr., at the recent "Heroes at Home" project in Waldorf. White, a 23-year-veteran of both the U.S. Army and Air Force, suffers from a debilitating spine disease and two types of cancer, and has been unable to navigate his wheelchair or climb stairs at his Waldorf home.
Since March, "Heroes at Home," a joint effort between Sears Holding Corp. and Rebuilding Together (formerly the national Christmas in April), has been working with the local chapter of Christmas in April, local contractor Tina Lohr of S.D. Lohr Custom Homes, and area subcontractors to renovate White's home, building a first-floor bedroom, a deck, and a handicapped-accessible bathroom.
"I'm extremely happy that we were able to get Mike the help he needed," said Commissioner Graves, who heads up many local Christmas in April charitable projects. "I'm also appreciative of the way all of the organizations and contractors worked together to make this dream come true," Graves said.
White commented that he felt very fortunate to have been selected by the program. "I only ask that you not forget the other men and women who come home every day. They need your support and prayers too," he added.
Through the joint programs, 9,000 U.S. veterans' homes were modified in 2007. Another 200 are to be renovated before the end of 2008. In-store fund raising at Sears stores has brought in about $5 million for the building program.
For information on this initiative, call 1-800-REHAB-9.