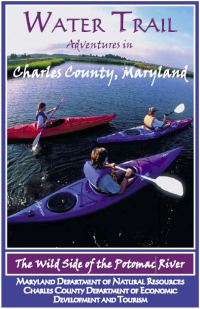 CHARLES COUNTY (Aug. 25, 2008)—The Maryland Department of Natural Resources and Charles County recently created a new water trails map and guide to lead paddlers along at least four water trail adventures in Charles County. The colorful guide, printed on waterproof and tear-proof paper, was designed primarily for those touring by kayak and canoe and details paddling routes along Mallows Bay, Friendship Farm Park, Mattawoman Creek, the Potomac River and the Port Tobacco River.
"We hope the new Charles County water trails guide helps both new and experienced paddlers spend more time on the serene waters of Southern Maryland," said DNR Secretary John R. Griffin.
DNR produced the new map, entitled Water Trail Adventures in Charles County, Maryland: the Wild Side of the Potomac River, in partnership with the Charles County Parks Department and the Charles County Department of Economic Development and Tourism.
"The Water Trail Adventures guide is a wonderful resource for people who wish to learn more about Charles County's rich natural resources," said Donna Dudley, Charles County's Chief of Tourism. "The guide offers information about natural, historic and cultural places that can be found on and nearby the trails."
The new free guide is available online at
http://www.charlescounty.org/...
. A free mailed copy may be requested by calling 1-800-766-3386.
Water Trail Adventures in Charles County, Md., one of a series of water trail maps, contributes to the statewide network of water trails and public access points that DNR has developed over the past decade. For more information about Maryland's water trails, visit
http://www.dnr.state.md.us/...