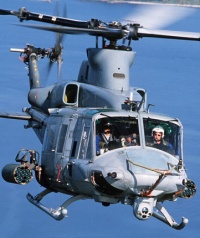 NAVAIR, PATUXENT RIVER, Md. (Aug. 15, 2008)—The Marine Corps' newest utility helicopters, the UH-1Y, achieved Initial Operating Capability on Friday, Aug. 8.
Lt. Gen. George Trautman declared IOC at Marine Corps Headquarters, Quantico, Va. for the UH-1Y, by demonstrating that three aircraft have met all flight requirements and are ready for deployment.
"It's been a long, intense effort to achieve IOC and it has been rewarding for the fleet to reach this milestone," said John Baronowski, H-1 director of logistics.
After more than one year of training at Marine Light Attack Helicopter Training Squadron, HMLAT-303, three UH-1Y helicopters with six pilots and six crew chiefs have reported to the 13th Marine Expeditionary Unit in preparation for deployment.
"This will be the first MEU deployment with a new type/model/series UH-1 aircraft since 1972. The UH-1Y provides a tremendous increase in capability, safety, and performance over the UH-1N that the Marines are currently using in combat," said Col. Keith Birkholz, H-1 program manager.
In January 2009, the UH-1Y is scheduled for its first scheduled deployment with the 13th MEU aboard the USS Boxer.
The UH-1Y provides significant increases in range, payload, speed, ballistic tolerance and crash survivability, maintainability and deployability, with reductions in life-cycle costs and the aircraft's logistics footprint according to the program officials.
Part of the H-1 Upgrades program, the UH-1Y replaces the currently fielded UH-1N. This upgrade will help meet the Marine Corps' 21st century mission for rotary-wing utility and attack aircraft.
The total program requirement for the UH-1Y is 123 helicopters. Delivery is expected to be complete by the end of fiscal 2016.
Source: Naval Air Systems Command (NAVAIR)