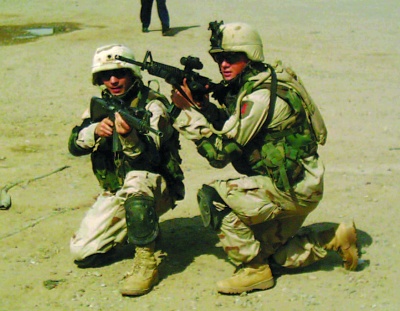 Christopher Allen Dale, 25, on the right, who died July 6 at his residence in Hollywood, served as combat medic in Iraq. He is shown here with a friend Nick Zangara who was killed by a improvised explosive. (Photo Courtesy of Dale Family)
By Guy Leonard, County Times
HOLLYWOOD, Md. (Aug. 14, 2008)—Donald and Cindy Dale say their son wasn't quite the same when he came home from serving in Iraq as a combat medic in March of 2005. They say the internal problems their son suffered weren't apparent at first, but that his behavior soon began to spiral out of control.
As he began to take prescription medication for his post-traumatic stress disorder, along with alcohol, they said, they began to worry more and more about his health.
They tried to press him to hold back on taking so many pills and to lay off his drinking, but he would rebuff them, they said.
Eventually, they said, their son stopped attending counseling for his disorder and his condition worsened.
On July 6 of this year, the 25-year-old veteran was found dead in his residence.
His family believed that his death might have been linked to his PTSD and to self-medication.
The Dales now say that if mental health services were available to treat their son locally, he might still be alive.
"Where do people down here turn to?" asked Donald Dale. "If they [returning veterans] don't want help what do we do?
"If [treatment and counseling services] were here in Lexington Park, he would've kept going to counseling."
The counseling sessions their son only infrequently attended, the Dales said, were too far away, in the District.
Connie Walker, director of the Southern Maryland chapter of the National Alliance on Mental Illness (NAMI) said that rural mental health care for veterans is a pressing issue with little hope in sight for improvement.
While attending a conference geared towards mental health providers helping veterans in Bethesda, Walker said help is likely far off.
"What I heard today was more rhetoric and the word 'rural' was used just once," Walker told The County Times. "Rural [mental health] care is a huge issue across the nation and Southern Maryland is an example."
A solution that would come in perhaps 2010 or 2012 would not be enough, she said.
"People can't wait that long," Walker said. "We're behind the power curve and the problem is immediate."
They cajoled and pushed him to get treatment, they even gave him money for gasoline, they said, but he wouldn't get the help he needed.
Donald Dale said that he would continually question his son about all the pills he saw him take, more than what was prescribed on the bottle, but it only drove more of a wedge between him and his son.
"He would say: 'I'm a medic, I known what I'm doing,'" Donald Dale said of his son.
"In his mind, if he had his medications he was OK," Cindy Dale said. "But he was a walking time bomb."
All the medications and heavy drinking took a toll on their son, making him increasingly unstable, his parents said.
Events finally came to a head when he pointed a gun at his sister's husband after a domestic dispute escalated out of control.
His parents immediately thought of what happened to Afghanistan War veteran, James Emerick Dean, who was killed in a police standoff in December of 2006 after barricading himself in his parents' home.
Dean, who was also diagnosed with posttraumatic stress disorder, was in treatment but his condition worsened when he received orders over the 2006 Thanksgiving holiday that would have to ship out to Iraq.
Despite the danger to their son, the Dales said, they had to act.
"I said this is the chance we were looking for to force him to get help," Donald Dale said. "So we had Chris arrested."
Their son was charged with first-degree assault for the alleged gun-pointing incident and was awaiting trial before his death.
Their son's anger issues were brought on by his experiences in combat, the Dales said, and that fits of rage became common.
Though he did not talk about the actual incidents he had faced, they said, their son did reveal that the adrenaline rush was consuming him.
"He said it was addictive," his father said. Nightmares and flashbacks to horrific battlefield incidents also plagued their son, they said.
Despite the problems he faced here, Dale's family said, their son served with distinction in the war.
He even risked his life in combat to treat a wounded enemy fighter who had been hit on the battlefield; it earned him a commendation, his family said.
"He was proud that he joined," Dale's father said. "He said America should be there [in Iraq] so he enlisted."
The County Times contacted the Department of Veterans Affairs but could not get additional information on Dale's condition by press time.