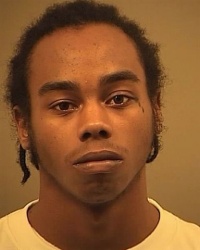 Police are seeking this man, James Cornell Ford, Jr., 20, of Oxon Hill, for the murder of Joseph Ray Burgess, 21, of Waldorf on Aug. 11, 2008.
LA PLATA, Md. (Aug. 12, 2008)—Police in Charles County are looking for the suspected killer of a 21 year-old Waldorf man who was shot late Monday night.
On Monday, August 11 at 11:03 p.m., Charles County Sheriff's officers responded to the 3000 block of Heathcote Road in Waldorf for the report of a shooting. When officers arrived, they found the victim, Joseph Ray Burgess, 21, of Waldorf, with a gunshot wound to the upper body; he was pronounced dead on the scene.
The investigation revealed the victim was outside with a group of friends when the suspect, James Cornell Ford, Jr., 20, of Oxon Hill, approached the group and began arguing about an event that occurred earlier in the evening. Ford produced a handgun, pistol whipped one man, and shot Burgess. Ford fled the area on foot and escaped.
Investigators have obtained an arrest warrant charging Ford with first degree murder, second degree murder, first degree assault, and second degree assault.
Anyone with information about the whereabouts of James Ford, Jr., is asked to contact Det. C. Shankster at 301-609-6513 or Charles County Crime Solvers at 1-866-411-TIPS. Crime Solvers is offering a reward of up to $1,000 for information that leads to the arrest and indictment of the suspect. All callers remain anonymous.