Charles County Resident Honored for Service on Blue Ribbon Commission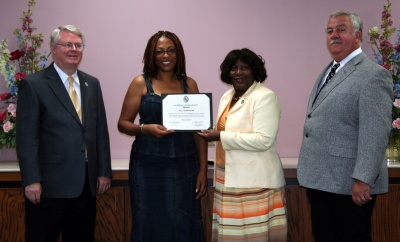 Commissioner Vice President Edith J. Patterson, joined by Commissioners Gary V. Hodge and Samuel N. Graves, Jr., presented a certificate of appreciation to Dr. Amy L. Franklin-McDowell, in recognition of her exceptional contributions and service to the Charles County Blue Ribbon Commission on Diversity and Inter-Group Relations. Dr. Franklin-McDowell is one of 25 Charles County residents appointed by the Commissioners to serve on the Blue Ribbon Commission, which focuses on current community issues regarding diversity and intergroup relations, including relations between long-term residents and newcomers, relations between age groups, and ethnic, racial, religious, and cultural differences. Dr. Franklin-McDowell resigned from the Blue Ribbon Commission because she is relocating to Japan.
Commissioners Recognize Charles County Attorney for Two Decades of Service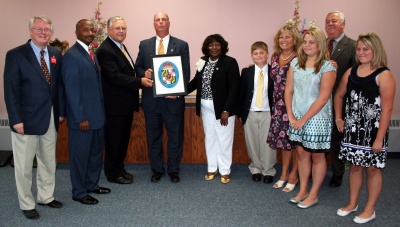 The Charles County Commissioners recognized Mr. Rudolf A. Carrico, Jr., Esq., for his longtime service to the Charles County Board of Fire and Rescue. For 21 years, Mr. Carrico has served on the Board of Fire and Rescue, which reviews the financing of the Fire Departments and rescue squads in Charles County and makes appropriate recommendations with regard to the formula for distribution of fire tax revenues, purchase of equipment, and facility needs. Mr. Carrico, joined by his wife and three children, received a framed County Seal from the Commissioners.
County Government Donates More Than One Thousand Pounds of Food to Local Food Pantry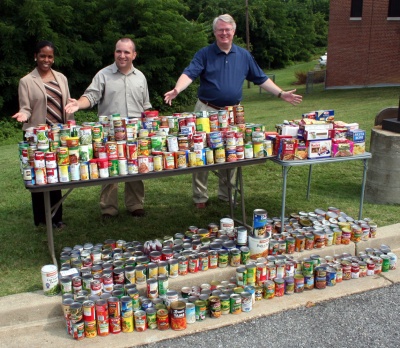 (L to R): Crystal Hill and Jason Lang of Charles County's Media Relations Office, and Commissioner Gary V. Hodge, point to more than 1,200 pounds of non-perishable food generously donated by Charles County Government employees. The food was collected at a recent employee appreciation event held at Regency Furniture Stadium, and benefitted the local food pantry at Christ Church, Durham Parish in Nanjemoy.
Take Them Out to the Ballgame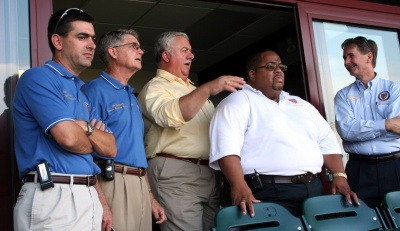 Commissioner Samuel N. Graves, Jr. demonstrates for the Board of Supervisors of King George County (VA) how to throw a fast pitch strike. (Photo: George Clarkson)
Members of the King George County (Virginia) Board of Supervisors brought 100 of their favorite "kids and parents" to Regency Stadium recently to enjoy a Southern Maryland Blue Crabs baseball game.
They all were guests of the Charles County Commissioners who met earlier in the evening with the Supervisors to discuss renewing an agreement to help jointly finance enhancements to ease the traffic flow on the Harry W. Nice Memorial Bridge.
After the meeting, the Supervisors were treated to a big plate of Southern Maryland hospitality with dinner and a ballgame.
"This is a great stadium, not a bad seat anywhere," said King George Chairman Cedell Brooks, Jr. "It's family-friendly, and I can't wait to come back," he added.