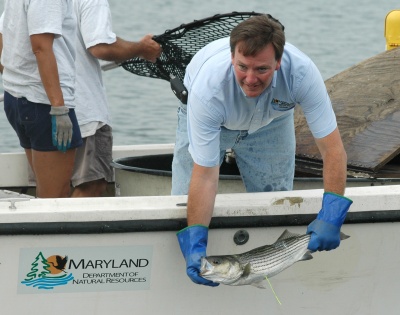 Maryland Fisheries Service Director Tom O'Connell releases a specially tagged rockfish into the waters near Calvert and St. Mary's counties. If you catch a fish that bears the bright green marker, you could win one of many prizes being given away by the State to promote sport fishing. (DNR Photo)
SOLOMONS, Md. (July 31, 2008) — On Thursday, the Maryland Department of Natural Resources released the final batch of specially tagged rockfish into the waters near Calvert and St. Mary's counties as part of the 2008 Maryland Fishing Challenge featuring Diamond Jim.
"The tremendous participation in this year's contest is a testament to Maryland's abundant fishing opportunities," said Fisheries Service Director, Tom O'Connell. "I encourage all anglers to try their luck at landing Diamond Jim while enjoying all that our state's waterways have to offer."
Designed to promote recreational fishing in Maryland, recognize angler efforts and inspire environmental stewardship, the 2008 Maryland Fishing Challenge began April 12 and will run through Labor Day, Sept. 1. Any angler who catches a citation-qualifying fish and enters the challenge may win one of the official grand prizes. To date, more than 1,130 anglers from twenty states and territories have qualified to win one of the grand prizes, including a 2008 Toyota Tundra 4x4 pickup truck from Central Atlantic Toyota, a boat and trailer package from Bass Pro Shops and $5,000 in fishing gear from Bill's Outdoor Center.
One genuine and 20 imposter specially tagged Diamond Jim striped bass were released into the waters of the Chesapeake Bay and its tributaries. If a lucky angler catches the genuine Diamond Jim by midnight on August 31, he or she will win $25,000 cash courtesy of Boater's World and a $5,000 diamond from Smyth Jewelers. Anglers catching Diamond Jim imposters will receive a $500 Boater's World gift card.
More than 60 species of fish are eligible for the grand prizes, including large and smallmouth bass, trout, walleye, musky and panfish in the freshwaters of Maryland; rockfish (striped bass), bluefish, drum, sea trout and perch in the Chesapeake Bay; and tuna, marlin, flounder, kingfish and sea bass caught in Maryland waters off the Atlantic Coast. Grand prize winners will be randomly selected at a closing ceremony to be held on September 13 at Sandy Point State Park.
As an added youth component this year, children participating in various fishing rodeos across the state may qualify for a new category at the Challenge finale to win a guided fishing trip embarking from several different locations across the state. Fifteen lucky young anglers from Oakland to Salisbury are already entered to win the trips.
For the full rules, list of qualifying fish, and other 2008 Maryland Fishing Challenge information visit
http://www.dnr.maryland.gov/fishingchallenge/
.