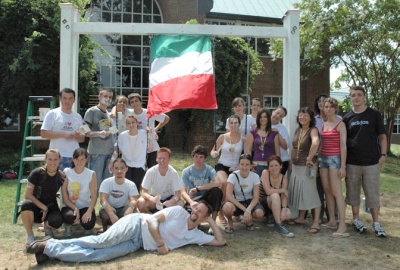 ST. MARY'S CITY, Md. (July 30, 2008)—Nineteen visiting high school students from Alba, Italy, took paint brush to swing set last week at St. Mary's College of Maryland (SMCM) in recognition of Mark Twain's ideal American boy, Tom Sawyer. Misplaced paint, laughter, and Italian accents figured heavily into the affair, which marked the completion of a course on Mark Twain, taught by Professor of English Ben Click.
The course was part of a two-week cultural exchange program between St. Mary's College and the city of Alba. The people of Alba have welcomed St. Mary's students wishing to study abroad or participate in the Alba Music Festival. Now St. Mary's College is returning the favor by introducing Alba's brightest students to American culture through visits to popular landmarks and historical sites in Baltimore and Washington, D.C.
During class hours, the students engaged in discussions, role playing, and lessons in American humor. "Some American humor is not transferable, but Mark Twain certainly is," said Click.
Painting the swing set enabled the students to not only bring Tom Sawyer to life but to also immerse themselves in a scene that has become part of America's literary and cultural legacy. "I want to put a mark on this campus that says, 'The Italians were here, but they were Americans for a while,'" Click explained.
The students concluded the whitewashing by hanging an Italian flag on the swing set.