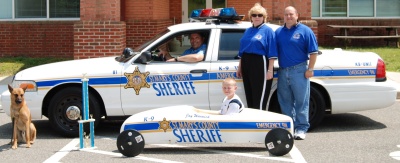 Jay Warnick, an eleven year-old from Drayden, poses in his soap box derby car which is modeled after a St. Mary's County Sheriff's Office K-9 unit. Pictured with his father Jim and his mother Colette. Sheriff Cameron is seated in the patrol car. (Photo Submitted)
By Dfc. Cindy Allen, St. Mary's County Sheriff's Office
Jay Warnick, an eleven year old from Drayden, Maryland has been competing in soap box derby races for the past three years.
Jay got his start in Soap Box Derby racing from participating in the Cub Scouts. One of Jay's activities, while in the Cub Scouts, was to design a small car out of block of wood and race it down a ramp in competition. With the help of with his father Jim and the support of his mother Colette, Jay designed and raced his first soap box. Jay was immediately hooked on soap box derby racing.
Jay has wanted to be a police officer since age two, so it was only natural to combine his interest of soap box derby racing and law enforcement. Jay chose to design a soap box derby car like a police cruiser. His 2007 stock car, which is used for rally racing, and his 2008 super stock car are designed just like a St. Mary's County Sheriff's Office K-9 cruiser.
Jay has had great success in soap box derby competitions. This past year Jay participated in over 25 rally races, traveling to race cities in North Carolina, Ohio, Virginia, Maryland, and Pennsylvania. Using his St. Mary's County Sheriff's Office designed soap box, he represented Southern Maryland and was supported with donations by St. Mary's County Fraternal Order of Police Lodge 109.
Jay was the 2007 Southern Maryland Stock Division Champion and now the 2008 Southern Maryland Super Stock Division Champion. On Friday, July 18, Jay was scheduled to travel Akron, Ohio to compete against hundreds of other youths from 42 states and 7 countries at the All American Soap Box Derby. For Jay it will be his second time racing at the All American Derby race and he is only the second racer from our area to win both divisions back to back.
Jay has many other hobbies which include Lego's, swimming, riding motorcycles and camping. He is active in the Patuxent Baptist Church as a junior church usher. Jay is home schooled and will be entering the seventh grade as a student in the ABEKA Christian Academy studies program.
Sheriff Timothy Cameron commended Jay for his enthusiasm and dedication to his soap box derby hobby. "I was completely impressed with the design and craftsmanship of Jay's soap boxes," said Cameron. "Members of our agency are flattered Jay chose to use our cruiser stripping to display on his soap box. Jay is a terrific young man and a role model for others. We wish him well at the All America Soap Box Derby in Ohio."