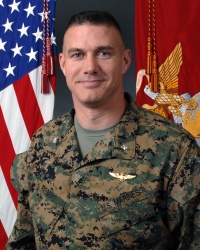 NAVAL AIR SYSTEMS COMMAND, MARINE CORPS AIR STATION CHERRY POINT, N.C. (July 28, 2008)—Lt. Col. Paul M. Riegert assumed command on the H-46 Program Office (PMA226) on July 9.
As the H-46 Program Manager, he will lead a team of approximately 150 acquisition professionals and is charged with the life cycle management authority for a fleet of 198 helicopters. The aircraft are heavily deployed in Operations Iraqi Freedom and Enduring Freedom and are primarily used in the assault support mission for the Marine Corps. Lt. Col. Riegert will manage the numerous H-46 upgrade programs underway that provide increased survivability, safety, reliability, and a range of other capabilities.
In 2005, Riegert reported to the Joint Chiefs of Staff, J-8, Warfighting Analysis Division, serving as an analyst and Operational Availability Study Lead, responsible to the Joint Chiefs of Staff Chairman for analyzing the ability of the programmed Joint Force structure to support the National Military Strategy.
Additionally, Riegert was tasked to conduct similar strategic analysis for the National Counterterrorism Center, National Security Council and the United States Agency for International Development. During this tour, Riegert was assigned the 8059 MOS and selected for command of the H-46 Program Office (PMA226).
In 2004, Riegert reported to Newport, R.I. for both the College of Naval Command and Staff and the Naval Operational Planners Course. In Newport, he earned a Master of Arts in National Security Studies and designation as an Operational Planner.
In 2002, he reported for duty with Marine Medium Helicopter Squadron 265 (HMM-265) where he served as S-1 Officer, Director of Safety and Standardization, Executive Officer and as a Detachment Officer-in-Charge. During this tour, he deployed with the "Dragons" from Okinawa to the Republics of Korea and the Philippines in support of Marine Aircraft Group-36 and then embarked for two cycles in support of the 31st Marine Expeditionary Unit (Special Operations Capable), participating in exercises Foal Eagle, Balikatan, Cobra Gold and providing Presidential support in Bali and humanitarian assistance in East Timor.
In 2001, Riegert returned to Okinawa for duty with the 1st Marine Aircraft Wing, serving in the G-3 as Assistant Plans Officer and, later, Plans Officer. He also served as the MAG-36 Current Operations Officer for Exercise Balikatan '02 and as a 1st Marine Aircraft Wing Senior Watch Officer for Operations Noble Eagle, Enduring Freedom and exercise Millennium Edge.
In 1998, he published his Master's thesis and transferred to Naval Air Station Patuxent River, Md. for duty at Naval Air Systems Command (NAVAIR). While at NAVAIR, Riegert served in the Aircrew Systems Program Office (PMA202). As an Integrated Product Team leader, his duties involved research and development of helmet mounted displays, tracker systems and Net Centric Warfare applications as well as the procurement of AN/AVS-9 Night Vision Goggles. Departing NAVAIR, he was assigned the 8058 MOS, Level III certification in Program Management and career field designation as an Acquisition Professional.
In 1996, he was selected for the Special Education Program and transferred to the Naval Postgraduate School (NPS) in Monterey, Calif. As an acquisition student at NPS, Riegert received a Master of Science in Management, Acquisition Career Field (ACF) level III training in Program Management, Logistics Engineering, and Test and Evaluation and ACF level II training in Systems Engineering and Production/Quality Management.
After completing initial CH-46E pilot training in 1993, Riegert received orders to HMM-262 in Okinawa, Japan. While with the "Flying Tigers", he deployed throughout the Western Pacific in support of the 31st MEU (SOC) for four consecutive cycles. While at HMM-262, he served as Ground Safety Officer, Airframes Officer, Quality Assurance Officer and Squadron Administrative Officer.
After completing The Basic School (TBS), he transferred to the Marine Attack Squadron 214 (VMA-214) the "Black Sheep," where he served as the squadron Embark Officer.
In 1990, he transferred to Pensacola, Fla. for flight training, and received his wings in 1992. He then transferred to Marine Helicopter Training Squadron 301 (HMT-301) at Marine Corps Air Station Tustin, Calif. where he served in the Operations Department as Flight Schedules Officer.
Lt. Col. Riegert was born at Camp Lejeune, N.C. and is a 1989 graduate of the United States Naval Academy, where he earned a Bachelor of Science degree in Political Science. Upon graduation, he received his commission and served for six months as a Navy football coach until reporting to The Basic School (TBS).
Lt. Col. Riegert resides in Cape Carteret, N.C. with his bride of 18 years, Aimee, and their children Emma, Paul, Abby and Bobby. His personal awards include the Defense Meritorious Service Medal, three Navy and Marine Corps Commendation Medals and various service medals.