Gift Funds Scholarships for Calvert, Charles and St. Mary's County Students Attending SMCM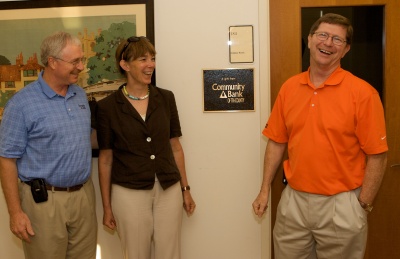 St. Mary's College of Maryland President Jane Margaret O'Brien, Community Bank of Tri-County President Michael Middleton (right), and Vice President Greg Cockerham celebrate the naming of a room in Goodpaster Hall after the bank in honor of a $25,000 gift to the College for students from Southern Maryland. (Photo: Eric Heisler)
ST. MARY'S CITY, Md. (July 21, 2008) - Executives of Community Bank of Tri-County were recognized recently for the bank's gift to St. Mary's College of Maryland (SMCM) of $25,000. They attended a dinner with President Jane Margaret O'Brien and Vice President for Development Torre Meringolo before a River Concert on campus.
The money is designated for scholarships to Calvert, Charles, and St. Mary's County students attending SMCM, and will be paid in $5,000 installments over five years.
At the dinner on July 11 were Community Bank of Tri-County President Michael Middleton, Executive Vice President Greg Cockerham, and their spouses. Middleton said that the bank made the donation because it is "interested in retaining the best and the brightest local students in the area." This is the second gift the College has received from the bank, which gave $12,500 in 2005, also for scholarship support.
Meringolo said, "We are grateful for the leadership support of Community Bank of Tri-County. Its gifts to scholarships go to the heart of our mission to make the very best liberal arts education accessible to everyone regardless of their financial situation. The Tri-County Scholarship Program gives a helping hand to talented local youth who otherwise might not be able to attend college."
In recognition of the gift, the large seminar room on the first floor of the College's Goodpaster Hall was named for the bank. Goodpaster Hall, the first entirely green building on the College campus, earned a Leadership in Energy and Environmental Design (LEED) Silver rating. It opened to students in the spring of 2008.
Community Bank of Tri-County is the oldest independent financial institution headquartered in southern Maryland, with its home office in Waldorf. It has served the tri-county area for more than 55 years. The bank's tenth branch location opened earlier this year in Lusby, Maryland.