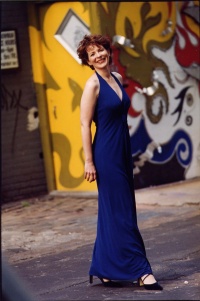 ST. MARY'S CITY, Md. (July 14, 2008)—Simply beautiful melodies will enchant concertgoers for the July 18 River Concert Series at St. Mary's College of Maryland (SMCM). The Chesapeake Orchestra, under the musical direction of Jeffrey Silberschlag, will perform Franz Waxman's "Anne of the Indes"; Aaron Kernis' "Simple Songs," featuring Grammy Award-winning soprano Susan Narucki; H. Berlioz's "Les nuits d'été"; and Brahms' Symphony No. 3.
The free outdoor concerts overlook the St. Mary's River and begin at 7 p.m., with grounds opening at 5 p.m.
Susan Narucki has captivated audiences across the globe in performances of orchestral, chamber, and operatic works ranging from Bach and Mozart to Andriessen and Crumb. The San Francisco Chronicle has called her "a composer's best friend-a new music interpreter of such intelligence, commitment, and technical prowess that anything she sings takes on a radiant life." Narucki has performed in major music festivals in Paris, London, Warsaw, Munich, London, and Vienna. She has also appeared in recitals at Carnegie Hall, the Liszt Academy in Budapest, and the American Academy in Rome, among others.
In less than two years, Narucki has released 11 CDs, including her Grammy Award-winning disc of George Crumb's "Star-Child" with the Warsaw Philharmonic (Bridge). Her forthcoming releases include the world premiere recording of Elliott Carter's "Tempo e Tempi" (Bridge).
The goal of the River Concert Series is to assist in economically enhancing the region and cultivating a cultural tourist destination by organizing arts and historical offerings. In 1999, the Chesapeake Or-chestra came into a residency relationship with SMCM with the initiation of the River Concert Series. Since then, the Chesapeake Orchestra has sought to provide musical programming to reach the broadest possible audience.
The River Concert Series has become the cornerstone of growing arts activities at the College and throughout St. Mary's County. St. Mary's is ranked one of the best liberal arts colleges in the nation by U.S. News & World Report, The Princeton Review, Newsweek and Kiplinger's. With roots going back to 1840, SMCM is the state's only public honors college, offering the academic excellence of a top private college with the openness and affordability of public education.
Also This Week
Movies accompany music on Wednesday evenings as part of the River Concert Series: At the Movies. The film will be viewed in the Auerbach Auditorium in St. Mary's Hall at 7 p.m., July 16, and will be introduced by Robin Bates, professor at St. Mary's College. This week's film, "Diva" (1981), starring Wilhelmenia Fernandez and Frédéric Andréi, is about the obsession of a fan for his opera prima donna. A performance by Betsy Bates, soprano, will follow the film at 9 p.m.
The Don Stapleson Jazz Trio will perform as part of the River Concert Series: Cutting Edge at Vin-cenzo's Mediterranean Grill in Solomons, Maryland, Saturday, July 19 at 6:30 p.m.
The River Concert Series Brazz Quintet will perform an evening concert in Leonardtown Square for River ConcertSeries: On Location at 7 p.m. Saturday, July 19.
Trumpeter Michael Adams will perform selections for River Concert Series: Up Close, Sunday, July 13, at 3:00 p.m. at the Auerbach Auditorium in St. Mary's Hall.