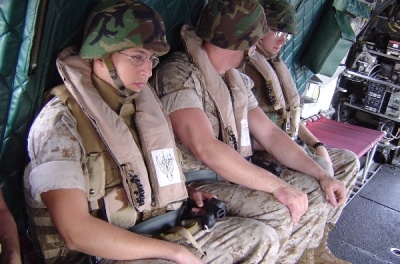 Marines wearing the Helicopter Egress System for Passengers in an H-46 Sea Knight helicopter. (Photo: NAVAIR)
NAVAL AIR SYSTEMS COMMAND, PATUXENT RIVER, Md. (July 14, 2008)—The Helicopter Egress System for Passengers team in Aircrew Systems (PMA202) has won the NAVAIR National Commander's Award for achievement in Quality of Service.
"The HESP team in PMA202 has demonstrated how NAVAIR can deliver a superior product, ahead of time and below cost, with proven capability that will directly help our Marines return home safely," said Vice Adm. D. J. Venlet, Commander, Naval Air Systems Command.
"This is another example of the great work Aircrew Systems does to support the fleet," said Martin Ahmad, Aircrew Systems Program Manager (PMA202). "The entire HESP team worked countless hours on a program that's designed to save the lives of our Marines. The Aircrew Systems team has won the Commander's Award three years in a row and I could not be prouder of everyone on the team."
"The dedication and subject matter expertise of the engineers, logisticians and contracting personnel made this a great project for the entire team," said Tara Capecci, Integrated Program Team Lead for Life Support Equipment (PMA202). "Our acquisition strategy was successful and we are proud to get this system out to the fleet."
The Helicopter Egress System consists of a floatation device, a self-contained breathing device, a mobile refill station, tools, support equipment and training units. The HESP team completed the contract selection and award six months ahead of schedule, met or exceeded the majority of contract requirements and still saved the Marine Corps more than $8 million. Furthermore, improvements in reliability and sustainment over legacy systems are projected to save an additional $1.8 million and save more than 30,000 man hours per year.