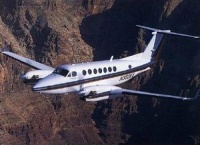 This Hawker Beechcraft aircraft has been selected to be the Marine Corps UC-12 replacement aircraft. (NAVAIR submitted photo)
NAVAL AIR SYSTEMS COMMAND, PATUXENT RIVER, Md. (July 14, 2008) – Hawker Beechcraft Corp. Wichita, Kan has won the Marine Corps UC-12 Replacement Aircraft contract.
NAVAIR's Support and Commercial Derivative Aircraft Program Office (PMA207) announced the winning company today for the $48 million dollar contract to supply the Marine Corps with six aircraft to replace their aging UC-12 Huron twin-engine utility aircraft. The aircraft is a state-of-the-art twin turboprop commercial aircraft certified by the Federal Aviation Administration. The aircraft has a range up to 1,500 nautical miles, a maximum speed of 312 knots, and a payload of up to 2,650 pounds.
"The C-12 is an amazingly versatile utility aircraft that flies a multitude of different support missions for the United States Marine Corps," said Capt. James Wallace, Program Manager, PMA 207. "The current C-12 fleet is more than 25 years old and needs to be replaced in order to effectively support the warfighter."
The C-12 is the military version of the Hawker Beechcraft King Air, a twin turboprop aircraft that can carry a mix of passengers, cargo or transport medical patients. The Replacement Aircraft was selected via an open source commercial competition and will be supported in the fleet by an existing logistic support contract. The aircraft is expected to begin reaching the fleet in Fiscal Year 2010.