By Guy Leonard, County Times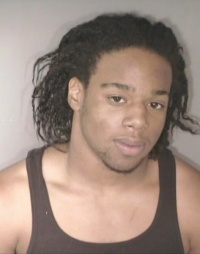 16-year-old John Kendall Edison, Jr. has been charged as an adult in the alleged rape of a 12-year-old girl.
HOLLYWOOD, Md. (July 10, 2008)—Detectives with the St. Mary's County Bureau of Criminal Investigations have charged a 16-year-old juvenile from Great Mills with raping a 12-year-old female over the holiday weekend.
John K. Edison, Jr. remains incarcerated at the St. Mary's County Detention Center after he was denied bond Monday by District Court Judge John Slade. Edison has been charged as an adult and also faces second and fourth-degree sex offense charges as well as a second-degree assault charge.
According to charging documents filed by Detective William E. Raddatz of the Bureau of Criminal Investigations, the victim alleged that she was raped and assaulted by Edison while at his residence when he pulled her into his room and forcibly removed her pants.
Edison pushed the victim to the ground, charging documents allege, but she tried to fight him off while trying to keep her pants on during the assault.
During the alleged attack, the victim also scratched the victim on both arms leaving visible marks, but she was not able to force Edison back as he used force to hold her down.
Edison was able to remove her pants, charging documents state, and was able to force vaginal intercourse with the victim, court papers allege.
After forcibly penetrating the victim, court papers read, Edison sodomized her and then struck her with a belt after the alleged rape.
Edison denied being with the victim at the time of the incident, charging documents state, until he was confronted with the cousin of the victim who witnessed both Edison and the victim together.
Edison gave several versions of the events that took place July 5, court papers state.
Edison told detectives he was unsure if his penis actually entered into the anus of the victim, but he did admit to inserting his finger inside her vagina, charging documents state.
The 12-year-old victim did not want any sexual contact with the defendant, charging documents state.
Edison admitted to detectives that he did strike the victim with a belt, charging documents state, but he said he did so in a playful manner.
If tried as an adult and convicted, Edison faces 20 years in prison for the second-degree rape charge as well for the second-degree sex offense.
The second-degree assault charge carries a 10-year prison sentence while the fourth-degree sex offense carries a one-year jail term. Edison is set to have a preliminary hearing into the charges against him in District Court August 5.