By Andrea Shiell, County Times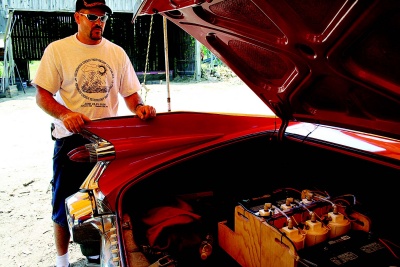 Dustin shows off his "smack boosting" technology at the first annual Alternative Energy Conference at Jarboe's Mill. (Photo: Andrea Shiell)
HOLLYWOOD, Md. (July 3, 2008)—St. Mary's County Commissioner Lawrence D. Jarboe seemed to be in his element this past weekend, trolling around in casual clothes with tools, covered in sawdust, and sweating in the hot sun as he and many others showcased what they are hoping will be the future of energy in the US. "This is what I do," he said. "When people want to find me as a county commissioner, they can come here and find me building something."
It certainly seemed that he had built something incredible. For the first annual Alternative Energy Conference, Jarboe's Mill had been spruced up to accommodate a pantheon of people interested in learning about renewable energy sources, from wind to solar power, hydrogen fuel cells, and electric motors, to simply gathering tips on how to reduce energy consumption. All culminated in a successful two-day event that drew visitors from all over the country, including Los Angeles, Ohio, Texas, both Carolinas, Florida, and many other states.
"I just saw this water for gas thing on the computer," said Michael Young, who had come from New Jersey for the conference. He said he had already started experimenting with methods to boost his own fuel economy, and had come to the conference for more ideas. "This is exciting," he added, nodding to what a nearby demonstrator calling himself "Zero" termed a "brute force electrolyzer."
Zero, who has a number of videos on You-Tube, described his work as still being in the "tinkering" stage, but when asked about the elimination of fossil fuels from America's energy repertoire, he said, "that is the holy grail! The end game is to produce enough hydrogen and oxygen to replace fossil fuel entirely…and we'll get there eventually."
Saturday's crowds had teemed through the site listening to representatives of companies give presentations on alternative energy, its application to residential and commercial markets, and its impact on the environment. On Sunday the crowds had thinned considerably, but demonstrators were still out braving the heat while explaining their projects.
Terry Miller smiled as he handed out free bottles of water and soda to visitors, pointing to the tarp of his tent. "This is all petroleum… we'll never be totally independent, but we can reduce our use dramatically," he said.
Terry's colleague Pam Gondola said that she had come up with her own ways of reducing gas and electric usage. "I don't go anywhere for just one thing anymore," she said, explaining that she had reduced her driving a great deal. She also said that she had reduced her electric usage by simply installing energy saving light bulbs and surge protectors wherever she could in her house. "My electric bill went from $400 to $230 a month…they're little things, but they do make a difference,"
Shannon Schmidt of Solar Tech Inc. stood by one of her inverters and explained the benefits of adding solar power systems to homes and businesses. "Electric rates are going up so much that you're really avoiding costs with this," she said, adding that, in time, all systems pay for themselves.
Both Shannon and her father, Richard, said that they have seen a huge increase in inquiries about solar power systems. "There's a lot of interest right now with fuel costs and electric usage," said Richard, adding that this weekend's conference had been a great forum with which to promote awareness of his company's product.
Not far from the set-up of solar panels, a man named Dustin perched by a sexy-looking red 1959 Cadillac to demonstrate his "smack booster" technology. "I've been in business for four months," he said, explaining that he had developed his system to aid what he calls the "hydrogen revolution," offering his design plans for free on the internet.
According to information from Dustin's website (he asked that his last name not be included in this article), his system is commonly referred to as a hydrogen "booster" that consists of a small container of distilled water with a conductive additive. When an electric current is passed through the water it produces a gas mix commonly referred to as "hydroxy" that improves the quality of the burn inside the combustion chamber while reducing CO2 and other emissions. Specific design and installation guides can be found at his website at www.smackboosters.com.
County Commissioner Larry Jarboe ducked for shade while dusting himself off on Sunday. "I feel like I'm back in first grade again," he exclaimed, pointing to stands showcasing what looked like an impromptu science fair. "It's a rolling science project, literally."
He said he had been both pleased and surprised to see from 1,000 to 2,000 people come by to attend presentations on energy conservation and alternative energy sources the previous day. "We had a wonderful event here," he said, adding that he had even had "meditation tents" set up near the far end of the property so that people could rest and relax after what had amounted in many cases to very long car rides.
Jarboe credited a lot of the event's success to his colleague, Major Todd Hathaway of the US Army, who had convinced him to hold the event at his mill, nestled snugly behind the Farmer's Market off of Three Notch Road. "A conference center is too expensive," he said, adding that he had not wanted to charge anyone to attend. "So Todd was the one that brought up the idea of having it here at the lumber yard."
Jarboe's idea with this event had been not to sell, but to share. "We're not trying to push a product down people's throats," he said, adding that many of the demonstrators were offering their designs for free on the internet. "But really here we need to lead by example," he said, explaining that he had already built multiple electric vehicles over the years, and also has a diesel car that he runs on part canola oil.
"Russell drives a grease-mobile too," Jarboe said of the president of the Board of County Commissioners. "It starts on regular diesel and then it switches over to used cooking oil."
And what may have seemed like a novel idea pulled from Mad Max movies several years ago has now become a reality for people looking to boost their fuel economy. "We've got dozens of people in this county running on grease-mobiles, putting hydrogen cells on their cars, and they aren't taking a lot of credit," said Jarboe, who plans to take his show on the road.
"I'm going to rest for a week," Jarboe sighed, smiling warmly at those still in the yard who were looking at the remaining projects. "It's been humbling…maybe we'll float to different places. We're looking at Florida by the end of October…but thank god for all the people that helped me out."
In the meantime Jarboe recommends that people do their own research on ways to conserve energy and "stick it to the oil companies… just do your research, set up some things you think you can do, and just do it," he said.
Jarboe's sentiment was universally shared. "Energy is the one thing that is holding us hostage in our society," said Dustin, as visitors came by to check out his smack-boosting system. "At $4.20 a gallon, most of that money is not going to the production of fuel, but to line people's pockets." He looked down at his booster pack, which was situated in the trunk, and smiled. "This is going to happen with or without me. I'm just lucky enough to be a part of it."