By Guy Leonard, County Times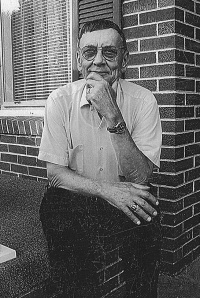 Billy Gene Gurley, 75, died on June 20 after a suspected armed robbery in Leonardtown in the parking lot of Dabbs Dental office.
HOLLYWOOD, Md. (June 26, 2008)—Detectives with the St. Mary's County Bureau of Criminal Investigations are searching for suspects in the death of a Lexington Park man who died possibly after being robbed at gunpoint in Leonardtown June 20.
Billy Gene Gurley, 75, who lived in the Town Creek area, told police who responded to the parking lot of the Dabbs Dental Building in Leonardtown that he was having chest pains shortly after being robbed by an assailant in a black hooded shirt, according to police reports.
Police describe the reported assailant as a male, but offer no other description. Lt. Rick Burris, commander of the investigative unit, said detectives were unable to talk to Gurley before Ahe died.
Burris said detectives were still trying to ascertain whether an armed robbery actually took place.
"There's a lot of things we have to look at," Burris said.
Gurley was pronounced dead at St. Mary's Hospital shortly after being transported there.
Gurley's family and friends were shocked by his death.
"It's not something you would expect," said Robin Connelly, Gurley's daughter. "He's somebody you could always depend on.
"If you have one friend like that your whole life you were blessed."
Connelly said her father was retired from the U.S. Navy after more than 20 years of service and was also a retiree from local defense contractor DynCorp as a helicopter mechanic.
Her father also worked at the U.S. Naval Test Pilot School at Naval Air Station Patuxent River in the maintenance control division.
Both Gurley and his wife, married for 55 years, had been living in St. Mary's County since 1959, she said.
He leaves behind two daughters, two grandchildren and one great grandchild, Connelly told The County Times.
One of Gurley's close friends of 40 years said that Gurley was an enthusiastic outdoorsman with a passion for deer hunting.
"He was one of the cornerstone members of the Mattaponi Rod and Gun Club," said Don Beck of the sportsmen's club on base. "He had a heart of gold.
"He would take the young sailor who didn't know anything about hunting or the base and take him under his wing."
Connelly said her father had even been an assistant game warden on station and spent most of his time at the clubhouse.
"He enjoyed his hunting," Connelly said. "He was out there [at the clubhouse] every day."
He was accomplished with both bow and gun, she said of her father.
Beck, who said he would be giving the eulogy for his friend at his funeral, said it would be easy to remember the good things about him.
"His Tennessee humor and spirit will be missed, he was a great story teller," Beck said of his friend.
Beck was shocked at what he believed was the violent nature of his friends death.
"My God, in a dentist's parking lot you think you'd be safe," Beck said. "But in this society I guess nothing's safe anymore.
"It's frightening what's going on in this place."
Gurley's death could be one of several other incidents that have occurred in the past week involving either armed robbery or violence on the streets.
Just one day before Gurley's death, police responded to an assault in Lexington Park that left a man beaten and lying in the woods behind Hal's Deli.
Deputies who responded found Fredy Herman Eatmon II, of D.C. suffering from head wounds and had him transported to St. Mary's Hospital for treatment.
Investigators arrested Kevin Jerome Chase, 38, of Great Mills and Walter Jerome Ford, 43, of Park Hall and charged them with first-degree assault.
The suspects allegedly beat the victim after an argument escalated.
On June 18 at about 9:30 p.m., two victims, male and female, were assaulted in the parking lot of Loews Theater in Lexington Park by three males with brass knuckles.
According to police reports, the three males began taunting the female victim before following both victims to their car.
They beat the male victim, police reports stated, and stole the female's purse and fled on foot.
Detectives charged two juveniles, 16 and 17 years old, one from Calvert County, with theft, robbery and second-degree assault. Police are still seeking the third suspect.