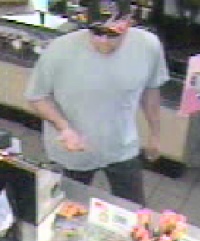 Store Surveillance photo of the man police say robbed the Charlotte Hall Dash In on Sunday.
LEONARDTOWN, Md. (June 30, 2008)—Police reported today that the Dash Inn store located in Charlotte Hall was robbed by a lone gunman on Sunday around 7:30 p.m. Police say the man entered the store and displayed a note demanding money and a pistol to the store clerk. The clerk complied and the bandit fled with an undisclosed amount of currency.
The bandit is described as a white male in his late 20's, 5'8", 190 lbs. At the time of the robbery, he was wearing a gray t-shirt, blue jeans, hat and sunglasses.
Police say this robbery is similar to the one at the Food Lion store in Charlotte Hall last Tuesday around 8:30 p.m.
Police are asking anyone with information to contact them at (240) 434-2754 or Crime Solvers at (301) 475-3333. You do not have to give your name and you may be eligible for a cash reward of up to $2000.
RELATED INFORMATION:
Charlotte Hall Food Lion Robbed, June 25, 2008
http://somd.com/news/headlines/2008/7862.shtml