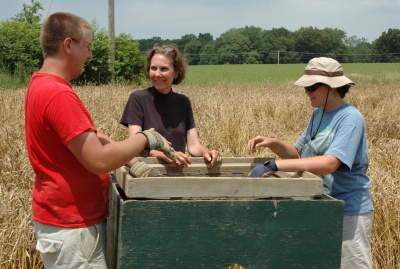 Dr. Julia King, anthropology professor (center) with team members Scott Strickland and Genevieve Goerling at the Charles County courthouse site. (Photo: Marc Apter/SMCM)
ST. MARY'S CITY, Md. (June 26, 2008) — She isn't Indiana Jones, but she found the long lost 17th-century courthouse of Charles County—and just in time for the county's 350th birthday. Anthropologist Julia King and a team of five St. Mary's College of Maryland (SMCM) archaeology students worked for three weeks to find the site hidden under a soybean field.
Three of the students are southern Maryland residents. Jackie Mastny ('09) is from Lexington Park, Claire DeRieux ('08) is from Waldorf, and Scott Strickland ('08) is from St. Inigoes.
The first Charles County courthouse was in use from 1674 to 1727. Prior to the team's find, it was the oldest government building in Maryland that had not been located. Other attempts to locate the site in 1934, 1958 and the 1970s were unsuccessful.
King credits this success to a team of researchers assembled by Michael Sullivan, a businessman and amateur historian in Charles County. Sullivan brought together a genealogist, professional land surveyor, and King, who undertook careful analysis of court and land records well-preserved by Charles County government.
Beginning in 2007, the team studied a 1697 plat drawing depicting a three-acre parcel that included the courthouse, stocks, an ordinary (an inn and tavern), and a private dwelling. They followed the transfer of land ownership and name changes. Historical records show this as a 150-acre tract called "Moore's Lodge." Surveyor Kevin Norris used a Global Positioning System to match historic land deeds to current geography.
To unearth the courthouse, the team dug more than 700 holes over 60 acres, often in 100-degree heat, looking for artifacts of colonial life. On Monday, June 2, they found an area with so many pottery shards, tobacco pipe stems, and glass that King felt certain they had found the site. The buildings of that time had foundations made of wood, not brick, making the search all the more difficult.
The site is about one hour south of the District of Columbia and south of the town of La Plata along Springhill Newtown Road. The land is owned by Dale and Barbara Howell. Heavy rains also aided the search by uncovering broken bits and pieces of the past.
The project was funded in large part by Sullivan. Search efforts cost about $40,000. The team's next project is to locate a late 17th-century Native American site called Zekiah Fort. The team will look for it in the Zekiah swamp near La Plata.
King is an associate professor of anthropology at the College who specializes in the colonial history of Maryland. She received her Ph.D. at the University of Pennsylvania in 1990. She also serves as director of the College's SlackWater Center, which publishes a journal charting environmental and cultural changes in the Southern Maryland Tidewater region.