By Andrea Shiell, County Times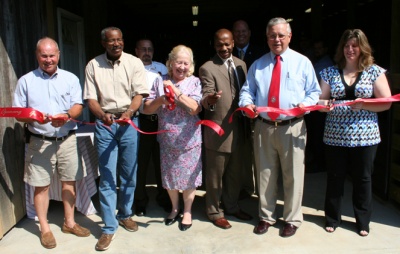 Representatives from Charles, St. Mary's, and Calvert Counties joined the staff of the Tri-County Animal Shelter in Hughesville to dedicate their newly renovated barn on June 13, 2008. The project added additional stalls, as well as water and electrical services, to the barn and completely shields the animals within it from the elements. The project was completed by members of the Charles County Department of Public Facilities. (Pictured left to right) St. Mary's County Commissioner President Jack Russell, Calvert County Commissioner President Wilson Parran, Calvert County Commissioner Linda Kelley, Charles County Commissioner Reuben B. Collins, II, Charles County Commissioner President Wayne Cooper, and Kim Stephens, Supervisor of the Tri-County Animal Shelter. (Photo: George Clarkson, Press Secretary, Charles County Government)
HOLLYWOOD, Md. (June 19, 2008)—The sun broiled the landscape in Hughesville on Friday as a casual gathering of county commissioners and animal lovers from Charles, Calvert and St. Mary's counties congregated to celebrate the latest collaborative effort for the Tri-County Animal Shelter, unveiling a new barn facility for farm animals.
Those visiting the shelter may not be aware of the number of pigs, emus, or ponies that pass through, but employees and animal control officials at the shelter have counted 75 in the past year, in addition to over 13,000 cats, dogs, rabbits, squirrels, birds, hamsters and others. Though the number of farm animals has stayed consistent, housing these animals has been a problem in years past.
What used to be a shell of a barn with dirt floors, partitioned with chain-link fences, was described by Assistant Shelter Supervisor Tommy Scott as "a roof with three sides and a storage room," but has now been transformed over the last year into a facility that can accommodate anywhere from 20 to 30 animals with electricity, concrete floors, adjustable partitions and a storage level upstairs.
"This barn was terrible," said Calvert County Commissioner Linda Kelly, who had brought two pigs in her van that morning. "We would have cited a homeowner for keeping animals the same way."
In the last year, Kelly had checked line items to make sure that funding was allotted for the project, as did commissioners from Charles and St. Mary's County. Each of the three counties contributed $15,000 for the project, a modest sum when compared to the comfortable accommodations it achieved.
"This is beyond our expectations," said Kelly. "Now we've got a place to put them."
Shelter Supervisor Kim Stephens smiled and fanned herself as Scrappy and Max, two of the pot-bellied pigs brought by Kelly, scuffled in the hay behind her, enjoying their new accommodations.
She explained that the recent downturn in the economy was forcing people to give up their farm pets.
"With the way the populations are going with the economy, a lot of people can't afford to keep them," she said, adding that groups like the Snowflake Society in St. Mary's County, Bunny Magic Rescue in Lusby, and the Calvert County Humane Society rescue many animals that are not brought in by their owners, at which point they are brought to the shelter.
In addition to the new barn, air conditioning was added to some of the smaller rooms in the shelter itself, which Scott described as a blessing as he fanned himself outside.
"The major units don't have it yet," he said, adding that retrofitting a building that old for air conditioning may be next to impossible.
Still, with summer baking the facilities and the animals in them, he remains hopeful.
"The next hopefully big thing will be air conditioning."