Team Wins Most All-Americans, Places Second for Fowle Trophy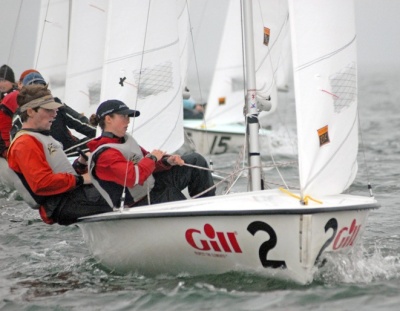 St. Mary's College of Maryland racers John Loe and Meredith Nordhem battle their way to a team third place finish in the ICSA/Gill Coed Dinghy National Championship. (Photo: Glennon Stratton/GTS Photos)
ST. MARY'S CITY, Md. (June 25, 2008) - The St. Mary's College of Maryland (SMCM) Seahawks finished in third place at the 2008 Intercollegiate Sailing Association (ICSA)/Gill Coed Dinghy National Championship in Newport, Rhode Island, earlier this month. The national championships are the premier event of the year for intercollegiate sailing. Two-member crews raced Collegiate 420s. Georgetown University took first place, with Boston College finishing second. The team came away from Newport with eight of its members elected to the ICSA All-America Sailing Team and with second place in the prestigious Leonard M. Fowle Trophy standings. The trophy is awarded annually to the best overall college sailing team in the nation.
SMCM Varsity Sailing Coach Adam Werblow said he was proud of the third place finish in the event. According to Werblow, the team also proved its mettle by taking second place in the Fowle standings. Boston College was awarded first place.
"We demonstrated all year long that we were one of the very best teams in college sailing, and finishing second in the Fowle standings proves just how close we came to owning it all," said Werblow.
The Seahawks had more All-Americans than any other school in the nation, with eight selections and one honorable mention. The Seahawks' eight All-Americans accounted for almost one-fifth of the entire All-American team. Adrienne Patterson ('08, of Newport Beach, Calif.) and Sara Morgan Watters ('10, of Oxford, Md.) earned spots on the All-American women's team, with Megan T. Magill ('11, of San Diego) earning an honorable mention. Jesse Kirkland ('10, of Warwick, Bermuda), Justin Law ('07, of Newport Beach, Calif.) and John Loe ('08, of New Orleans) were named All-Americans on the co-ed team. Mattie Farrar ('08, of Blaine, Wash.), Margaret Lumkes ('08, of River Forest, Ill.) and Meredith Nordhem ('08, of Chicago) earned spots on the All-American crew team.
Of the Seahawks' All-American selections, Werblow said: "While the awards are special for those in-dividual players, the whole team put a lot of blood, sweat and tears into our sport. Each of our players invested in one another. That investment paid off and they were awarded with this tremendous honor."
Competitors from 30 schools took to the waters of Narragansett Bay for the ICSA National champion-ships. Over nine days of competition, the best college sailors in the nation raced for the ICSA Women's National Championship, the ICSA/APS Team Race National Championship, and the ICSA/Gill Coed Dinghy National Championship.