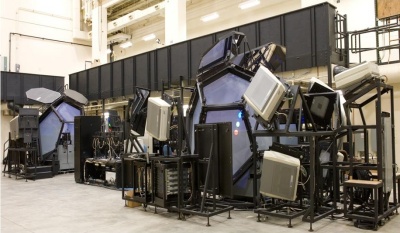 A wide view of both the front and back seat of the first EA-18G Growler Tactical Operational Flight Trainer." (U.S. Navy photo)
NAVAL AIR SYSTEMS COMMAND, PATUXENT RIVER, Md. (June 18, 2008) – NAVAIR's Aviation Training Systems Program Office delivered the first EA-18G Growler aircrew trainer five months early to Naval Air Station Whidbey Island, Washington.
Installation work began at NAS Whidbey Island on April 21, 2008 for this first EA-18G Tactical Operational Flight Trainer.
"Our original goal for the program was to provide an operationally representative trainer in time to support the Growler's Operational Evaluation (OPEVAL) beginning September 2008 and we exceeded that goal," said Capt. Spike Long, Aviation Training Systems Program Manager (PMA205). "The trainer arrived at Whidbey Island almost five months before OPEVAL. No other organization has ever delivered an aircrew trainer with this level of aircraft concurrency prior to the aircraft's OPEVAL, and it is a true privilege to lead such a forward leaning group of professionals."
"This accomplishment was a complete team effort," added Long. "And was made possible by aligned, committed and selfless folks populating a high performance and decorum centric Integrated Program Team. The team consisted of Boeing St. Louis, L3 Communications, NAVAIR's Aviation Training Systems Program Office (PMA205) and the F/A-18 Hornet Program Office (PMA265), Naval Air Warfare Center Training Systems Division (NAWCTSD), Naval Air Warfare Center Aircraft Division's Air Combat Environmental Test and Evaluation Facility (ACETEF), and the EA-18G Fleet Introduction Team."
"The Naval Air Systems Command is extremely proud of the EA-18G program," said Capt. Mark Darrah, F/A-18 and EA-18G Program Manager. "We consider it to be a 'model' program in terms of executing better than plan. A solid government and industry partnership is the foundation of our success and a critical reason the Growler has remained on cost and schedule for the Warfigher. Delivering the Tactical Operational Flight Trainer (TOFT) early allows the fleet more time to get accustomed to the aircraft and ensures a smooth fleet transition."
"The first operational EA-18G Growler simulator was delivered to NAS Whidbey Island and was up and running prior to the first Growler being delivered to the fleet. This is unprecedented for a newly fielded aircraft, but par for the course for the highly successful Growler program. The EA-18G remains on cost, on performance, and ahead of schedule. More importantly, this simulator delivery ahead of schedule marks the first step in the fleet transition of the Growler which officially began on June 3 during the official arrival ceremony in NAS Whidbey Island," said Cmdr. Frank Morley, deputy program manager for spectrum dominance.
"Since the Growler is a new platform with a new mission (combining the mission and capabilities of the F/A-18F Super Hornet and the EA-6B Prowler), NAVAIR wanted to provide a trainer for the Fleet Introduction Team to become familiar with the aircraft before OPEVAL and to stand-up of the Fleet Replacement Squadron (FRS)," said Cindy Conger, EA-18G Training Systems Program Manager (PMA205).
"The first EA-18G aircraft (G4) for use by the fleet arrived at NAS Whidbey in an official welcome aboard ceremony attended by the Secretary of the Navy, the Honorable Donald C. Winter, on June 3, 2008," added Conger. "SECNAV requested to "fly" the trainer during his visit, which he did for nearly an hour."
The EA-18G (TOFT) is designed to support training for Fleet Replacement Squadron (FRS) students and Fleet aviators. The trainer emulates the basic flight mechanics and procedures, including instrument flight, and weapon systems procedures.
The emphasis is on advanced weapons systems employment and mission rehearsal for post-FRS training. The EA-18G trainer is a baseline F/A-18E/F trainer that has been modified to add the Airborne Electronic Attack weapons systems and capabilities of the EA-18G aircraft in order to accomplish a number of different missions including FRS, Advanced Operational training, flight and navigation training, AEA tactics and mission integration training, and AEA mission rehearsal training.
A total of three Growler trainers will be installed at NAS Whidbey Island to support the EA-18G Growler aircrews.