Internationally Acclaimed Pianist Jon Nakamatsu: "He can do anything on the piano," --New York Times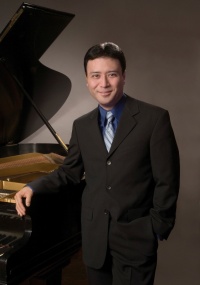 Guest pianist Jon Nakamatsu will perform at the 10th anniversary of the River Concert Series (RCS) on Friday, June 20, at St. Mary's College of Maryland.
ST. MARY'S CITY, Md. (June 18, 2008) - Music director Jeffrey Silberschlag and the Chesapeake Orchestra welcome guest pianist Jon Nakamatsu to the 10th anniversary of the River Concert Series (RCS) on Friday, June 20, at St. Mary's College of Maryland (SMCM). The evening's performances include Robert Schumann's "Julius Caesar"; F. Mendelssohn's Symphony No. 4, "The Italian"; and David Froom's "Striking Silver." Froom composed "Striking Silver" in honor of the RCS's tenth anniversary and as a tribute to Maestro Silberschlag.
Nakamatsu will perform as soloist for Rachmaninoff's Piano Concerto, No. 3. Music critic Bernard Holland, of The New York Times, said, "This young American pianist has stunning technical control and can do anything at the piano he wants."
The free outdoor concerts overlook the St. Mary's River and begin at 7 p.m. with grounds opening at 5 p.m.
Jon Nakamatsu is a frequent concerto soloist, chamber musician, recording artist and solo recitalist throughout the United States, Europe and Japan. He appears as soloist with numerous national and international orchestras, including the Los Angeles Philharmonic at the Hollywood Bowl and the Boston Pops at Tanglewood. He has played abroad as soloist with Italy's Orchestra del Maggio Musicale Fiorentino, Berlin's Deutsches Symphonie-Orchester, and Japan's Tokyo and Hiroshima Symphony Orchestras. His 1998-99 season was highlighted by a White House performance of Rhapsody in Blue, hosted by President and Mrs. Clinton.
Nakamatsu's extensive recital tours have included performances in New York City (Carnegie Hall, Alice Tully Hall) and Washington, D.C. (John F. Kennedy Center for the Performing Arts), as well as international performances in Paris, London, and Milan.
Nakamatsu was named Debut Artist of the Year (1998) by National Public Radio's "Performance To-day," First Prize winner of Miami's Fifth United States Chopin Piano Competition (1995), and Gold Medalist of the Tenth Van Cliburn International Piano Competition (1997).
David Froom has composed music for performances with major orchestras, ensembles, and soloists, including the Louisville, Seattle, Utah, and Chesapeake Symphony Orchestras, the U.S. Marine and Navy Bands, the Chamber Music Society of Lincoln Center, the Twentieth Century Consort, and the New York New Music Ensemble. His music is performed internationally, and his compositions are available on CD.
Froom composed "Striking Silver" in honor of the 10th anniversary of the River Concert Series. The title is the translation of "Silberschlag." This short, celebratory work (about six minutes), shows off the whole orchestra, but prominently features the "strikingly silvery" brass section of the Chesapeake Or-chestra in acknowledgment of Maestro Silberschlag's history as a trumpet virtuoso.
Froom has been honored by the American Academy of Arts and Letters (Academy Award, Ives Schol-arship); the Guggenheim, Fromm, Koussevitzky, and Barlow Foundations; the Kennedy Center (first prize in the Friedheim Awards); the National Endowment for the Arts; the Music Teachers National Association (MTNA-Shepherd Distinguished Composer for 2006); and the State of Maryland (four In-dividual Artist Awards). He received a Fulbright grant for study at Cambridge University as well as fellowships to the Tanglewood Music Festival, the Wellesley Composers Conference, and the Mac-Dowell Colony. He has taught at the University of Utah and the Peabody Conservatory. Froom is cur-rently chair of the music department at St. Mary's College of Maryland, where he has taught since 1989. He attended the University of California at Berkeley, the University of Southern California, and Columbia University.
Also This Week
Movies accompany music on Wednesday evenings as part of The River Concert Series: At the Movies, beginning June 18. The films are viewed in the Auerbach Auditorium in St. Mary's Hall at 7 p.m. and are introduced by SMCM Professor Robin Bates. This week's film, Shine (1996), starring Geoffrey Rush, describes the life of emotionally disturbed pianist David Helfgott. Choo Choo Su from Peabody Institute will perform selections at 9 p.m. following the film.
Enjoy an afternoon of classical and Broadway favorites at River Series: Up Close, Saturday, June 21, at 1:30 p.m. in the Auerbach Auditorium of St. Mary's Hall. The performance by Encore, a choral group "for older adults," will perform classical, Broadway, and operatic pieces.