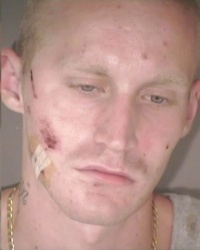 LEONARDTOWN, Md. (June 10, 2008)—David T. Dillow (pictured top left), age 23 of Hollywood, Maryland was arrested on Monday for the June 6 burglary of the Tackle Box store in Lexington Park.
At approximately 3 a.m. on June 6, police responded to an alarm at the store. Maryland State Police Trooper Roby was the first to arrive. He found the front door had been forced open. Troopers and sheriff's deputies searching the store determined that an undisclosed number of weapons had been removed from a glass case.
Dillow was charged with burglary, theft and property destruction. The arrest was made by detectives from the St. Mary's County Bureau of Criminal Investigations (BCI).
Dillow was incarcerated at the St. Mary's County Detention Center.