ST. MARY'S CITY, Md. (June 6, 2008) - Several southern Marylanders were recently endowed with awards at the annual St. Mary's College of Maryland (SMCM) Awards Convocation.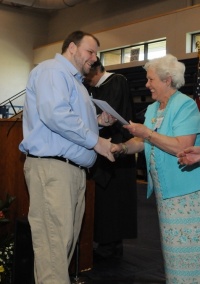 Paul Michael Christian was recently the Dallas P. Dean Teacher-Education Award. The award recognizes a student enrolled in the M.A.T. program at SMCM. Awardees are selected based on need and meritorious achievement by the College's Educational Studies department.
Christian is a graduate student from Charlottetown, Prince Edward Island, Canada, participating in the Master of Arts in Teaching. He currently resides in Lusby, Maryland. Christian is a St. Mary's Scholar and on the Dean's List. He was also a recipient of the 2007 Mattie M. Key Award in music. Christian student-teaches in the St. Mary's County Public School System. After graduation, he plans to teach music in Southern Maryland.
Douglas E. Decker was awarded the Geneva Boone Award. The award was created by the late trustee emerita Geneva Boone to recognize outstanding St. Mary's Projects. The St. Mary's Project is a research-based, undergraduate thesis that is considered a hallmark of the rigorous and creative experience offered at SMCM.
Decker, of Mechanicsville, Maryland, will be a senior this fall. He is majoring in biology.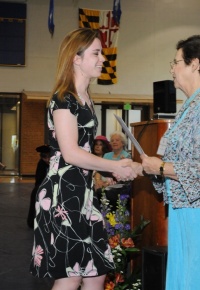 Kali Noelle Gates was awarded the St. Mary's County Garden Club Scholarship in Environmental Studies. The scholarship was established in 2005 by the St. Mary's County Garden Club to recognize a student enrolled in the Environmental Studies Program. The recipient is selected based on financial need, meritorious achievement, character, and determination, with first preference given to a St. Mary's County resident.
Gates, of Great Mills, Maryland, graduated on May 10 with a degree in biology. She minored in environmental studies. Gates was a member of the Dance Club, chair of the Programs Board Committee, director of Campus Programming, a member of the Dean's Advisory Council, and co-chair of the World Carnival Committee. She plans to pursue a career in animal science, possibly going to veterinary school after obtaining a master's degree.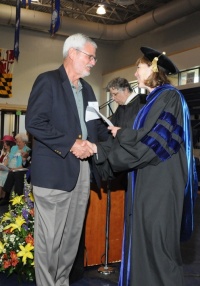 Charles W. Stein was awarded the William James Prize. The prize was established in 1986 to recognize superior understanding and written expression of philosophical discourse.
Stein, who has a B.A. from Tufts, has been taking courses in philosophy at SMCM. He and his wife are active in the SMCM Arts Alliance.
Elizabeth June Hargraves was awarded the Department Award in Mathematics. The award was established to recognize students who have demonstrated academic excellence and achievement in the discipline.
Hargraves, who is from Lexington Park, Maryland, graduated on May 10 with a degree in mathematics. She was a member of the Math Club and is currently a member of Phi Beta Kappa.