By Andrea Shiell, County Times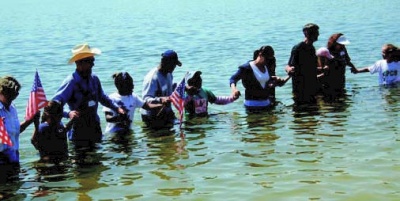 Students, parents, teachers, and others joined Bernie Fowler for a wade-in at Myrtle Point Park on Thursday. In recent years, Fowler's home-spun turbidity test has drawn hundreds to similar wade-ins across the state. (Photo: Andrea Shiell)
HOLLYWOOD, Md. (June 5, 2008)—Thursday morning at Myrtle Point Park, two men sat at one of the picnic tables engrossed in conversation, one sporting a classical guitar case plastered with stickers with slogans like "Save the Bay," and "Trees are the answer."
These two may have seemed like a couple of park regulars, but in actuality, retired Senator Bernie Fowler and songwriter and environmental activist Tom Wisner were there on a mission.
"I am extremely excited," said Adrianne Mathis from Chesapeake Public Charter School. "The kids have been working so hard on their Secchi dishes," she said, explaining that the dishes were used to test water clarity, or turbidity.
Though the students had spent the previous weeks making their dishes and learning about the history and health of the Chesapeake, they enthusiastically opted for shared a simpler way of determining the health of the bay and its tributaries.
"We have left the world of common sense," said Fowler as young students joined him and Wisner at his picnic table. "We're beginning to rely more and more on science and computers…it has no connection to these waters."
Since the first wade-in devised by Fowler in 1988, when he teamed with retired Hollywood Elementary School teacher Betty Brady and Tom Wisner to perform a simple sight test to determine water clarity, Fowler's method of grading the waters has caught the attention of thousands.
"Fowler Day" is now recognized as an annual chance for residents to measure cleanup efforts by simply wading in and looking at their feet, the idea being to wade into the water until the toes or feet disappear.
Deeper, of course, is better.
In 1988 Fowler said he joined a crowd of only 20 to 25 people for the first wadein at Broom's Island, and was only able to wade into the water 8 to 10 inches deep before seeing his toes disappear. Now the event draws hundreds on the second Sunday of each June, and he says that the water clarity has improved, but not enough.
"When we can get chest deep, we'll be there," he said.
Also in 1988, Fowler introduced a bill to regulate waste water treatment plant output, which he claims bears the bulk of responsibility for the sad state of the river today. "Everything we do is in the name of economic development," he said, noting that in 1963, three million gallons of waste were being dumped into the bay, compared with more than 60 million gallons today.
Though participants were able to wade this year to a depth of anywhere from 48 to 50 inches (adults waded in to their hips), Fowler claims there is still much work to do. He expressed concern about the declining productivity of the river.
"It used to be that one person could catch 10 sugar barrels of crabs a day…it's all gone now because of people moving in…as we've grown and people have moved in, that's changed the way we interact with the river…now you can't stop growth, but we need to grow smarter."
Fowler said he wants to enforce stricter mandates on wastewater treatment plants, emphasizing that public awareness would be the key to any and all progress.
"If God can create the heaven and the earth in seven days…then surely he'd be able to plant a bug in O'Malley and others in charge," he said, adding that Maryland citizens need to put more pressure on government to aid cleanup efforts. He looks forward to a large turnout at this year's Broom's Island Wade-In, which will be Sunday, June 8th.
Thursday's wade-in touched on political themes, but some focused instead on the spiritual side of this environmental lesson, as the children dried their feet and reflected. Tom Wisner was not able to get his own feet wet this year, but he strummed his guitar and explained that he had participated in wade-ins every year, starting in the 1960s with Piscataway Indian leader Turkey Tayac.
"Turkey said you've got to wade in the river every year and realign your soul with the system," Wisner said. "It replenishes your being."
Still, even Wisner took a moment to dwell on the political side of the ritual. "Once we get the crowds that want to see the river cleaned up, it will happen," he said. "It won't just be one voice calling out from the wilderness."