By Andrea Shiell, County Times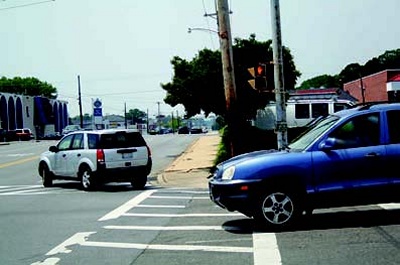 Intersections with pedestrian access like this one on Great Mills Road are part of the State Highway Administration's new program to retrofit all crosswalks for ADA compliance. (Photo: Andrea Shiell)
LEONARDTOWN, Md. (May 29, 2008)—The Joseph A. Carter Center Building in Leonardtown was sweltering on Tuesday evening as a small group of people met with the State Highway Administration to discuss handicap accessibility issues facing St. Mary's County. As some representatives pondered the air conditioning, others brought in a fan to cool the room as the group took their seats.
"The goal of the meeting is for the SHA to identify deficiencies that can be corrected with capital improvements," said ADA coordinator Christina Bishop, who is hoping that citizens can help to identify crosswalks, intersections, driveways, and sidewalks that may fall short of the Americans with Disabilities Act regulations.
In the last two years, the State Highway Administration has taken on an extensive retrofitting program, surveying sidewalks and roadways in all 23 counties in Maryland, and transposing the data on aerial photography to create a system of maps showing which areas are compliant with ADA standards. "We had a whole checklist of items that are required for compliance," said ADA Title 2 Coordinator Linda Singer, who works for the State Highway Administration. "We did a whole laundry list," she said, adding that in St. Mary's County, they have found 31 percent of roadways, sidewalks and crosswalks to be noncompliant, which includes inclines on curb cuts, ramps, and driveways.
With over 1,000 miles of state road under the microscope, Singer described SHA's plan as twofold, first involving their surveying system, and then involving residents themselves. Tuesday evening's turnout was low, but those who showed up seemed very concerned about rout 235 and Great Mills Road, and those two streets became the focus of the meeting.
Retrofitting projects include an ambitious program to add Accessible Pedestrian Signals (APS) to all crosswalks and intersections where pedestrian activation is appropriate, which would provide the cross-section of streets in brail, and tell pedestrians when to cross. "By 2016, every pedestrian signal will be updated," said Singer. "It's really neat technology and we've gotten a lot of positive reviews."
Some in the room seemed particularly enthusiastic about this idea, including Angela Cummings, who has been blind her whole life and described the project as long overdue. "Sometimes if I miss the bus I have to cross Great Mills Road to catch the bus on the other side of the street," she said, adding that unless there are other pedestrians present, she finds it difficult to navigate the intersections. "That light only stays green probably only for ten seconds," she said. Cummings was also pleased to learn that truncated domes lining the crosswalks will be added to assist people with canes in crossing the street.
Over 16 miles of state roads lined with sidewalks will be scrutinized, since many of those sidewalks are not wide enough to accommodate wheelchairs, or have utility poles blocking passage. "I have to be very quick witted about negotiating such obstacles," said Cummings. In addition to fixing sidewalks and crosswalks, curb ramps, curb cuts, median crossings, and ramps will be addressed.
Some remarked that there were many stretches of road without sidewalks, such as Chancellor's Run Road. Julie Randall, former President of the Board of County Commissioners, described the roadway as a death trap for pedestrians. She described Great Mills Road and Chancellor's Run Road as two of the largest veins in the county, providing access to shopping, parks, senior centers and residential developments. "Some of these roads and some of these sidewalks have been issues for 20 years," said Randall.
"We'd like to do everything all at once, right away," said Singer, "but that won't happen…the higher priority needs will come first." Singer explained that feedback from residents about the most frequented areas would help the administration establish priorities. "It's a hard call. If this is your road then it's a top priority," said Singer. "The idea is to make things consistent."
"This was a really neat thing to be a part of," said Margaret Anne Stewart after the meeting, adding that her biggest concern was the height of the buttons on the poles and the lack of sidewalks along one side of the street near her neighborhood off of Great Mills Road. "They truly act like they want to help," she said.
Singer said that the database system that the SHA devised to keep track of roadways and ADA compliance was the first of its kind, and that she hopes that priorities can be established soon. Those interested in commenting on areas where handicap accessibility is a problem can contact ADA Coordinator Christina Bishop at 301-475-4200, extension 1802.
So far, the SHA's timeline for completion is eight years. "I am concerned about where St. Mary's County will fall on the list of priorities," said Randall, who reflected that the ADA transition plan had been on the books for many years. "But I'm confident that once this administration goes through this process of transition then St. Mary's County will get their fair share."