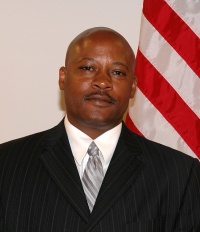 LEONARDTOWN, Md. (June 6, 2008)—The St. Mary's County Sheriff's Office welcomed Brian S. Eley as the new civilian administrator on Tuesday.
Eley retired from the Charles County Sheriff's Office in 2006 after 21 years of service at the rank of Captain. Upon retiring, he was hired by the Metropolitan Police Department, Third Police District, Washington, D.C. as the district manager in a civilian capacity.
Eley is a graduate of the F.B.I. National Academy and received both his Bachelors and Masters Degree's from Johns Hopkins University in Baltimore.
As the civilian administrator, Eley will manage the Administrative Division which consists of the following sections: Fiscal; Personnel and Recruiting; Records; C.A.L.E.A.; Police Services Specialist, and the Systems Administrator.