Celtic Extravaganza Features José Cueto, violin; Don Stapleson, saxophone and flute; Gwendolyn Degentesh, soprano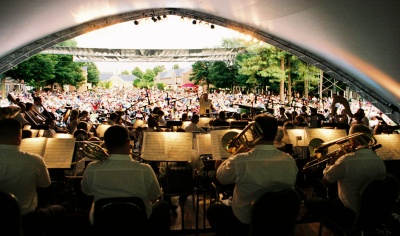 ST. MARY'S CITY, Md. (June 5, 2008) - A spirited evening of entertainment showcasing Celtic music and dance opens the 10th annual River Concert Series on Friday, June 13, at St. Mary's College of Maryland (SMCM). The evening's performances, led by music director Jeffrey Silberschlag and the Chesapeake Orchestra, include E. Elgar's "In the South," Tobias Picker's "Old and Lost Rivers," and O'Boyle's "Celtic Suite." Traditional Celtic selections will be performed by violinist José Cueto, concertmaster of the Baltimore Opera Orchestra; saxophonist and flutist Don Stapleson, who has played with Ray Charles and Dexter Gordon; and soprano Gwendolyn Degentesh, who has performed as a soloist at Italy's Amalfi Coast Music Festival. Local violinist Lauren Brenzo, who studied with master Celtic fiddler Alasdair Fraser at Scotland's Gaelic College, will also perform. The evening's program also features storyteller Ming Diaz and the River Concert Series Celtic Dancers.
The free outdoor concerts overlook the St. Mary's River and begin at 7 p.m. with grounds opening at 5 p.m.
José Cueto is a chamber musician who has performed with the Kennedy Center Chamber Players, the Washington Chamber Music Society, the Casals Festival Players, and the Tidewater Chamber Players. He has appeared at the La Gesse Festival in France, the Autunno Musicale Veronese in Italy, and has toured in Argentina and the eastern United States. Cueto is concertmaster of the Concert Artists of Baltimore as well as the Baltimore Opera Orchestra. He has recorded music by Portuguese composers and has also recorded baroque music for Crystal records and "Music of the Americas" with TRIO AMERICAS.
Cueto graduated in 1974 from the Conservatory of Music of Puerto Rico and was awarded scholar-ships from the Institute of Culture of Puerto Rico and the Peabody Conservatory of Johns Hopkins University. He completed his bachelor's and master's degrees in music from Peabody under the tutelage of laureate violinist Berl Senofsky. Cueto is artist-in-residence at SMCM and teaches violin.
An accomplished saxophonist and respected flutist, Don Stapleson performs with his own group, The Don Stapleson Quartet, as well as with the popular classical/jazz crossover group, Allegro con Trio. He has performed with Nancy Wilson, Rock and Roll Hall of Fame inductee Martha Reeves, and appeared on MTV with local legend Danny Gatton.
Among his other accomplishments, Stapleson played as a member of the pit orchestra at the National Theater during its productions of Annie Get Your Gun and Cats. He is a former member of the Pea-body Ragtime Ensemble and has appeared as guest soloist with the Chesapeake Chamber Orchestra. He also played in the orchestra at the Folger Theater during the Interact Theater productions of Noel Coward's Private Lives and Gilbert & Sullivan's H.M.S. Pinafore. Stapleson attended the Berklee College of Music and holds degrees from SMCM and the University of Maryland. He teaches saxophone and directs the Jazz Combo and the Jazz Ensemble at SMCM.
Soprano Gwendolyn Degentesh is a member of the SMCM voice faculty. She has performed nationally and abroad, including at the Italy & USA: Alba Music Festival in Alba, Italy; the Schlern International Music Festival in Schlern, Italy; and the Oberlin Baroque Performance Institute. Degentesh is a 2002 graduate of SMCM and holds a master's degree in voice performance from the University of North Carolina, Greensboro.
Lauren Brenzo, accomplished classical violinist and Scottish fiddler, has participated in various work-shops along the east coast. She was the recipient of the James Harrison Munroe Scholarship awarded by Scottish Fiddling Competition judge Elke Baker at the 2006 Virginia Scottish Games in Alexandria. As a result, she attended world famous Master Scottish fiddler Alasdair Fraser's fiddling school at The Gaelic College, Sabhal Mor Ostaig, on the Isle of Skye, Scotland, in August 2007. Brenzo is a 2008 graduate of Leonardtown High School and will be attending Randolph College in Lynchburg, Virginia, this fall to pursue her studies in medicine.
Also This Week
Movies accompany music on Wednesday evenings as part of The River Concert Series: At the Movies, beginning June 18 at 7 p.m. The films are viewed in the Auerbach Auditorium in St. Mary's Hall at 7 p.m. and are introduced by SMCM Professor Robin Bates. This week's film, Shine (1996), starring Geoffrey Rush, describes the life of emotionally disturbed pianist David Helfgott. Julie Herndon, a 2008 graduate of SMCM and fellow pianist, will perform selections at 9 p.m. following the film.