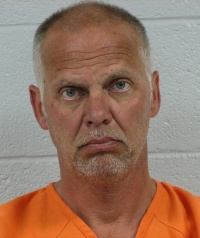 Ricky Joseph Salvatore, age 50, of Port Republic, was arrested Sunday for the murder of his brother (arrest photo).
PRINCE FREDERICK, Md. (June 2, 2008)—A Calvert County man is dead at the hands of his brother on Sunday say police. Robert Chris Salvatore, age 47, of Port Republic, was allegedly killed by Ricky Joseph Salvatore, age 50, also of Port Republic.
Police say they received a 911 call around 5:40 p.m. alerting them to shots fired on Southern Pine Lane in Port Republic. Members of the Maryland State Police, Prince Frederick Barrack, and the Calvert County Sheriff's Office discovered Robert Salvatore shot several times in the neck and chest. Salvatore was pronounced dead at the scene.
Police say that through their investigation they learned Ricky Joseph Salvatore had shot his brother while the victim was sitting in a folding chair outside of the residence watching television.
Ricky Salvatore was taken into custody at the scene and was charged with 1st degree murder, 2nd degree murder, and 1st degree assault. He is currently being held at the Calvert County Detention Center on no bond.